Hop-On Hop-Off Belfast Bus Tour (48 Hour)
What can I expect
Hear the story of Belfast City with live commentary and multi-language audio.
Tick off Belfast landmarks at a relaxed pace on a City Sightseeing tour
A flexible and family-friendly sightseeing option
Hop on or hop off at leisure on one great route with over 20 stops
Take great photos on-board the open-top bus
Discounts for some events and attractions
Belfast Bus Tour
Make the best of your time in Belfast with this flexible, award-winning hop-on hop-off bus tour. With a this 48 hour ticket (or the 24 hour option), you can hop on and off the bus at designated stops, and listen to live and multilingual commentary of the city's culture, architecture, and history.
Redeem your City Sightseeing bus voucher at any of the stops along the comprehensive route around Belfast. Choose to sit upstairs on the open-air upper deck or covered lower deck, depending on the weather, and listen to live or recorded commentary. It's your choice if you want to stay on the bus for the entire loop of each route or disembark whenever an attraction captures your attention. You can also plan ahead if you'd like and have a day's itinerary laid out and ready. The route has over 20 stops, including stops at Titanic Belfast, Titanic Quarter, Wall Murals, City Hall, St. George's Market, and Crumlin Road.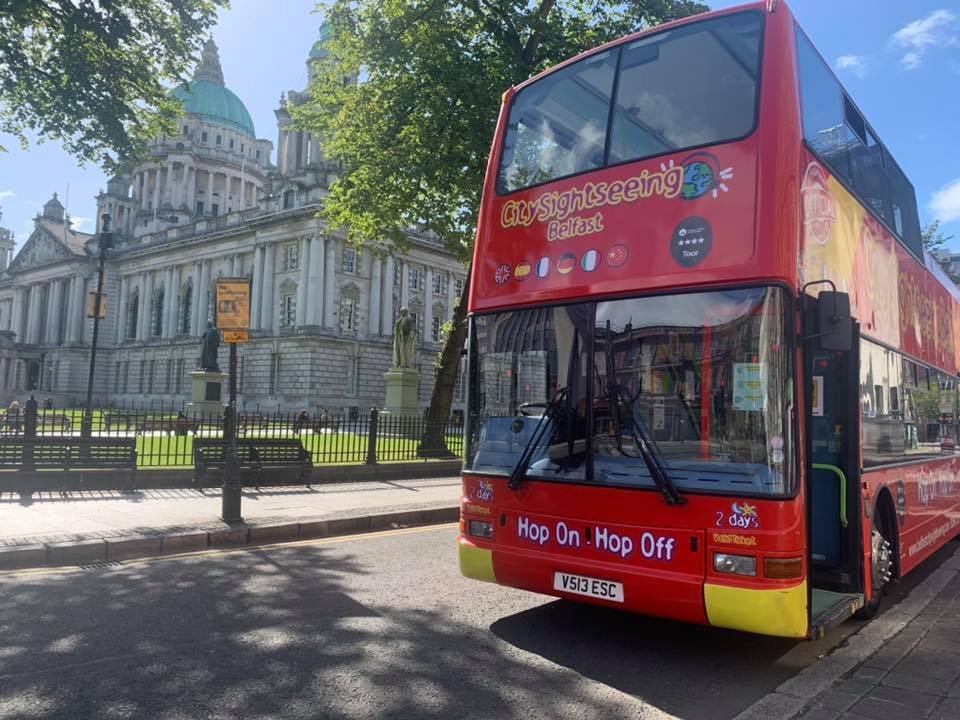 Belfast Sightseeing
The award-winning Belfast City Sightseeing Hop-on Hop-off bus tour provides you with a comprehensive tour Belfast city and surrounding areas and allows you to explore the area's special history and story.
Visit Belfast's most popular attractions and hop off anywhere along the route – you have unlimited travel for the duration of your ticket. One of the most popular stops along the route is Titanic Quarter & Titanic Belfast where you can explore the state-of-the-art visitor experience which tells the story of the Titanic, from her conception in Belfast in the early 1900s, through her construction and launch, to her famous maiden voyage and subsequent place in history.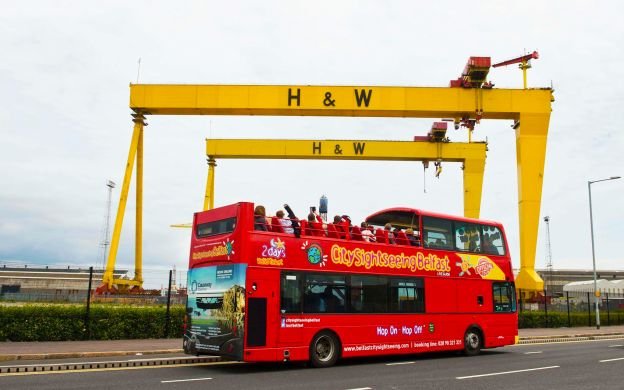 Or you can make a visit to Stormont and the Parliament Buildings. This remarkable building, set on expansive lawns, has immense history, and is the home of the Northern Ireland Assembly. You can learn of the people and politicians, and watch new politics in action if a sitting is taking place. Other great attractions include St George's Market – a heritage market beside The Waterfront Hall and River Lagan, the Cathedral Quarter – Belfast's cultural hub of Belfast which is characterised by narrow entries and small alleyways, or visit the famous Crumlin Road Gaol & Courthouse - a former prison situated in north Belfast.
Other great Belfast attractions on the tour route include Queens University, Botanic Gardens, Ulster Museum, Great Victoria Street, Grand Opera House, Europa Hotel, and the stunning Belfast City Hall.
Belfast Hop-On Hop-Off Tour Route Map
1. High Street
2. SSE Arena
3. Titanic Quarter
4. HMS Caroline
5. Titanic Belfast
6. Parliament Buildings
7. Belmont Road
8. Hollywood Road
9. Lower Newtownards Road
10. St George's Market
11. Great Victoria Street
12. Dublin Road
13. Shaftsbury Square
14. Queens University
15. Eglantine Avenue
16. Cultúrlan McAdam Ó Fiaich
17. Falls Road
18. International Wall Mural
19. Belfast Peace Wall
20. Spectrum Information Centre
21. Shankill Memorial Garden
22. Crumlin Road
23. Donegall Street
Covid-19 Update from City Sightseeing Belfast
City Sightseeing Belfast have implemtented the following measures in response to COVID-19
There will be a limit on how many passengers will be seated on vehicles. Social distancing measures will be implemented to ensure that passengers are safe whilst visiting Belfast. Seats will be blocked that are too close to other passengers or team members. Face to face seats will be blocked.
Liquid hand sanitizer for passengers hopping on and off are provided. All buses are being cleaned daily to help stop the spread. Team members wash their hands every time before they board a vehicle. Masks will be provided when joining the tour.
Vouchers can be shown on technological devices so there is no cross contamination.
Headphones will be given to passengers when joining. They will be in plastic bags that have been sanitized. We ask that customers please reuse these headphones.
City Sightseeing Belfast will be carrying out temperature checks on all passengers boarding buses. Please be ready for your temperature to be taken.
If your temperature is above NHS guidelines, you will be denied entry onto the coach/bus and advised to go home and self-isolate.
Supplier can accept a mobile or paper voucher for this activity.
Buses have live and pre-recorded audio commentary. Audio guide languages are English, Mandarin, French, German, Italian and Spanish.
Tour operates every 30 - 60 minutes.
Due to the impact of the COVID 19 pandemic, tours may be changed on a daily basis. Please contact on 02890 321 321 for updates on the tour.