St Patrick's Festival Information
The St. Patrick's Day festival is over for another year.
The information below from the 2019 festival is now out of date. We will update the page early in 2020 for next years festival.
Hope you had a fantastic St. Patrick's Day in Dublin!
Disruptions to DoDublin Services;
Airlink Express
16 to 18 March;
757 Route: Both Directions - Merrion Row, Merrion Square, and Clare street stops will not be operating due to Festival Village in Merrion Square.
757 Route: Airport to City Centre - Eden Quay and Hawkins Street stops will not be operating due to Funfair in Custom House Quay.
17 March; Buses will depart from and terminate at Busáras. The full service between Dublin Airport and Heuston Rail Station will resume on the evening of St. Patrick's day (17 March) at 15:15 from Dublin Airport and 16:35 from Heuston Rail Station.
Hop on Hop off Tour
Tour buses will not operate on Sunday 17 March due to St. Patrick's Day Parade. The Tour will operate a full schedule on 18 March.
16 and 18 March: Stops at Merrion Square will not operate due to festival activities.

St. Patrick's Day on 17 March and The St. Patrick's Festival which is on from 14 - 18 March is Dublin's biggest festival.
Our Airlink Express service will bring you directly to Dublin Airport to the heart of the action in the city centre, and The Hop on Hop off tour will provide Dublin's No.1 St. Patrick's Festival Tour of the city.
The St. Patrick's Day parade kicks off at 12pm on Sunday 17 March, with bands, street performers and all of Ireland's top theatre and pageant companies represented. The theme this year is "Storytelling" and it promises to be a 5 day celebration of the very best of Irish storytelling, both traditional and contemporary. See below for a map of the parade route. The parade promises to be bigger and better than ever. Once the parade is over the merriment continues in the pubs, cafés and restaurants as well as on the streets of Dublin city throughout the day.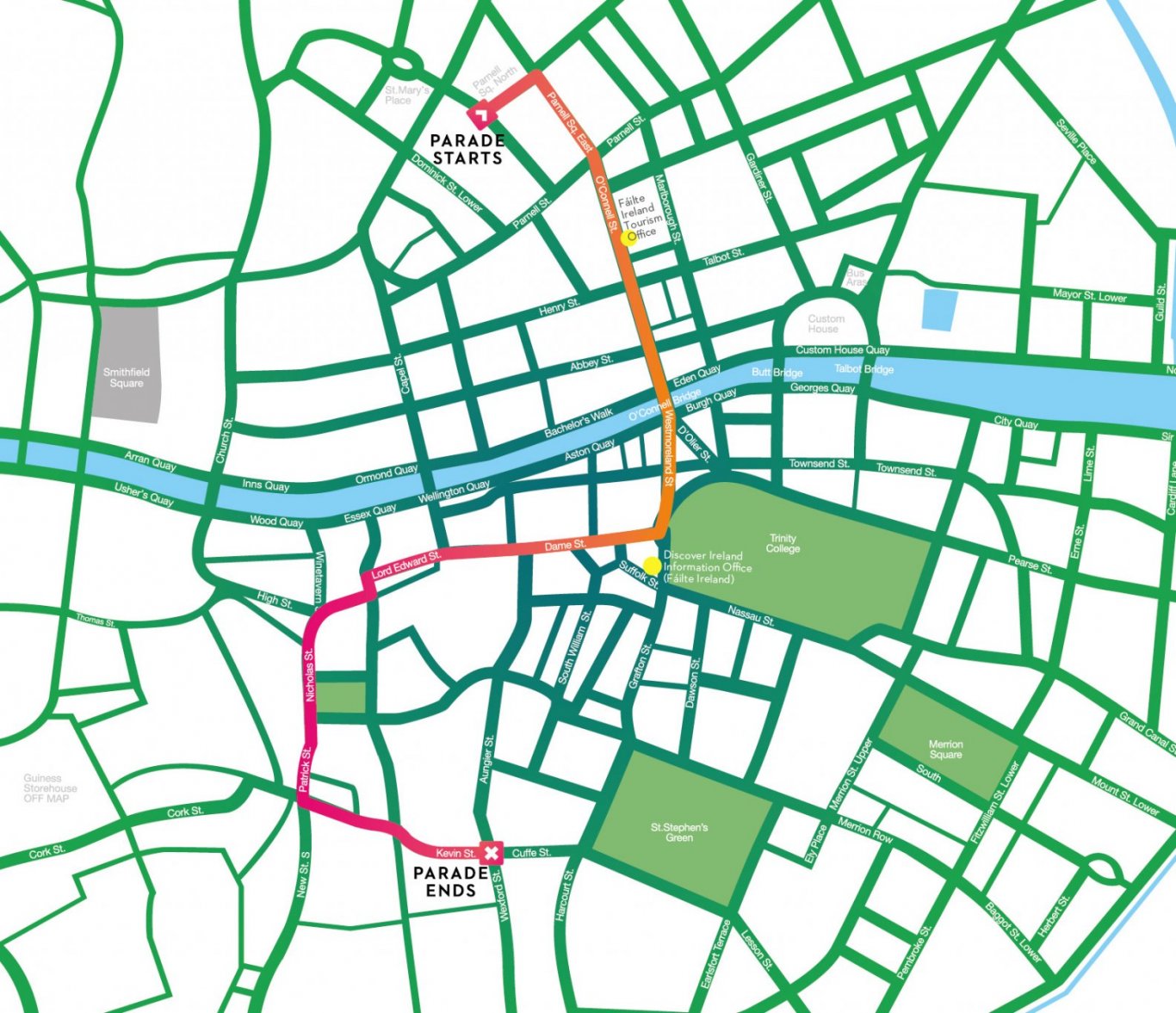 The St. Patrick's Day Parade Route
If you don't over-do it on St. Patrick's Day then go along to see the 5km Road Race, which starts at St. Stephen's Green at 12:00pm on 18 March 2019.
There will be a three-day festival village at Merrion Square and a fantastic funfair in Custom House Quay. Events are planned in attractions throughout the city; visit the festival website events page for details of events planned.
"Greening the city" is now an annual event, where businesses and public buildings around Ireland go green to help join in the celebrations so keep an eye out for some spectacular displays around the city.
See the best of the city, visit all the attractions and go see all your favourite events on board the DoDublin Hop on Hop off tour. Book your Hop on Hop off Tour now!
Note; The Hop on Hop off tour does not operate on St. Patrick's Day (17 March) as the streets of Dublin are full of party-goers for the entire day and the buses cannot get through, however any 48hour or 72 hour tickets for the tour will be honoured on the 18 March.
For more information on the St Patrick's Festival visit; http://www.stpatricksfestival.ie/
Learn more about the main man himself with our history of St. Patrick.