Please note Airlink Express Stops that are currently not being served
Read More

Hop on Hop off stop 16 (College Green) will be not be served on 16 November due to ESB Works. Please proceed to stop 17 (Dame St.) on this date.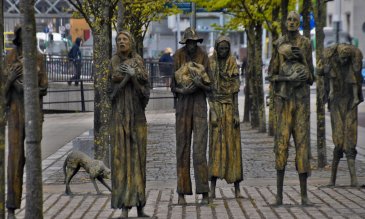 Famine Memorial
If you take a stroll down the north side quays in Dublin, you will be greeted by a hauntingly tragic sight. 'Famine' by Rowan Gillespie consists of six weary and starved figures dragging themselves begrudgingly away from their native Ireland to the Dublin Docks. The six are in a starved state, their shockingly thin frames almost enshrouded by their ragged clothes. They carry all that they own, one carries a malnourished child. A dog snarls in the foreground, waiting for the first on the travellers to meet their end.
DoDublin Tour Stop 5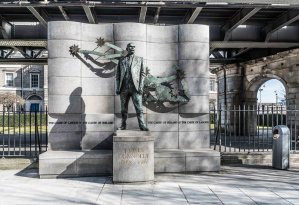 James Connolly Statue
Across from Liberty Hall, meeting place of the leaders of the 1916 rising, stands a bronze statue of Irish Socialist Republican, James Connolly. He stands with dignity, looking over to the left, which mirrors his political mind set. James Connolly founded the Irish Citizen's army in 1913 which played a crucial role in the Uprising of 1916.
During the rising itself, one of the signatories of the Proclamation of the Irish Republic, Connolly was imprisoned in Dublin Castle. Although the rising had at first little support from the public, the subsequent executions of the leaders garnered heavy sympathy in both Ireland and the United States. James Connolly, being too injured to stand in front of the firing squad was tied to a chair. This disgusted many, even in Britain.
DoDublin Tour Stop 4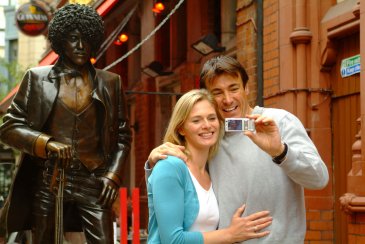 Phil Lynott Statue
Just off Grafton Street on the Southside of Dublin, you may spot the coolest looking statue ever made. There stands a man made of bronze, a bass guitar at his feet, with picks placed in between the strings. Phil Lynott is regarded by many Dubliners to be the greatest rock and roll icon that the city has ever produced. He's probably best known for founding the band 'Thin Lizzy' where he also served as bassist and lead vocalist. His songs, in particular 'The Boys are Back in Town', 'Dancing in the Moonlight' and 'Whiskey in the Jar', have made a lasting impression on both Dublin and the world.
DoDublin Tour stop 12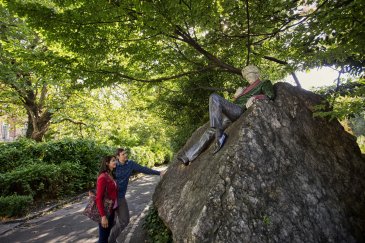 Oscar Wilde Memorial
The man immortalised lounging on a rock in Dublin's Merrion Square hardly needs an introduction. Known for his wit, flamboyant dress and incredible literary talent, the effigy of Oscar Wilde is flanked by two pillars, one depicting his pregnant wife, and the other a nude male torso. His mouth is half wide smile, half frown. The piece is full of contrast, which helps convey Wilde's dichotomous personality and life.
DoDublin Tour Stop 10
Statues can often go unnoticed, figures who stand watching over us, frozen in time. Even when they are spotted, you can be at a loss as to who or what they depict. Well fear no more, as DoDublin's guide to the statues of Dublin, is here to give you the low down on all the statues and sculptures of Ireland's capital from the most famous figures to the more elusive.
Book your Hop on Hop off tour and see Dublin's renowned statues. All located close to a Hop on Hop off tour stop!