Please note Airlink Express Stops that are currently not being served
Read More

50% off Ghostbus Kids Tours in January. Offer Ends Soon!
Read More

Bus Aeroporto - Sola andata
What can I expect
Oltre 200 partenze al giorno
Due percorsi con fermate nel centro di Dublino
Miglior prezzo e autobus frequenti circa ogni 10 minuti
Senza pensieri: trasporta le tue valigie sul bus senza costi aggiuntivi
Percorso più veloce: opera attraverso il Dublin Tunnel
7 giorni a settimana
Visita il nostro ufficio informazioni agli arrivi all'aereoporto in T1
Acquista i biglietti online, direttamente dall'autista o presso i nostri uffici
Please Note:
VOUCHER PER I BIGLIETTI ACQUISTATI ONLINE DEVONO ESSERE STAMPATI E NON POSSONO ESSERE ACCETTATI SU SMARTPHONES O TABLET. BIGLIETTI BAMBINI: I biglietti per bambini sono per bambini dai 5 ai 15 anni. I bambini sotto i 5 anni possono viaggiare gratuitamente se accompagnati da un adulto pagante tariffa.
Itinerario più veloce - operando attraverso il tunnel di Dublino
7 giorni a settimana - dalle 4.45 (06:30 di domenica) alle 00.30
Visita il nostro sportello informazioni sugli autobus e sui viaggi nella hall degli arrivi del T1
Acquista i biglietti online, direttamente dall'autista o presso i nostri uffici
Il servizio Airlink Express offre due rotte, la 747 originale tra l'aeroporto di Dublino e la stazione ferroviaria di Heuston e la nuova 757 tra l'aeroporto di Dublino e Camden (Charlotte Way e Harcourt Street)
La 747 Route serve: Point Village e 3Arena, North Wall Quay (Central Bank), The Convention Centre Dublin, Irish Financial Services Centre (IFSC), Commons Street, Talbot Street; La stazione centrale degli autobus (Busáras), la stazione ferroviaria Connolly, Gardiner Street, Cathal Brugha Street, O'Connell Street, Aston Quay & Temple Bar, Essex Quay & Christ Church, Ushers Quay e Heuston Rail Station.
La 757 Route serve: North Wall Quay (Central Bank) The Convention Centre Dublin, Irish Financial Services Centre (IFSC), Custom House Quay, Eden Quay & O'Connell Bridge, Hawkins Street & Temple Bar, Westland Row, Merrion Square, St Stephen's Green, Earlsfort Terrace, Adelaide Road, Camden (Charlotte Way) e Harcourt Street.
Si prega di notare che i biglietti di andata e ritorno Airlink Express sono validi per tre mesi dalla data di acquisto se acquistati online o quando sono stati validati per la prima volta con un biglietto prepagato
C'è la connessione Wifi gratuita a bordo di tutti gli autobus Airlink per aiutarti ad organizzarti e così puoi far sapere a tutti che sei arrivato a Dublino!
Prendi Airlink Express per connetterti; Linea verde Luas, linea rossa Luas, stazione ferroviaria di Heuston, stazione ferroviaria di Connolly, stazione ferroviaria di Pearse, stazione centrale degli autobus (Busáras) e rete dei trasporti pubblici di autobus di Dublino. Vedere le mappe delle rotte 747 e 757 di seguito per ulteriori informazioni sui collegamenti di trasporto.
L'Airlink Express è il servizio più veloce, più frequente e di ottima qualità tra l'aeroporto di Dublino e il centro città. Siamo l'unico servizio che opera attraverso il tunnel portuale di Dublino Così abbiamo battuto ogni volta il frenetico traffico di Dublino.
Per informazioni sul passeggero in tempo reale su tutte le fermate del bus Airlink Scarica l'applicazione Bus di Dublino:
Dall'aeroporto all'hotel diretto
Please visit Airlink Diversions page for info on current route diversions.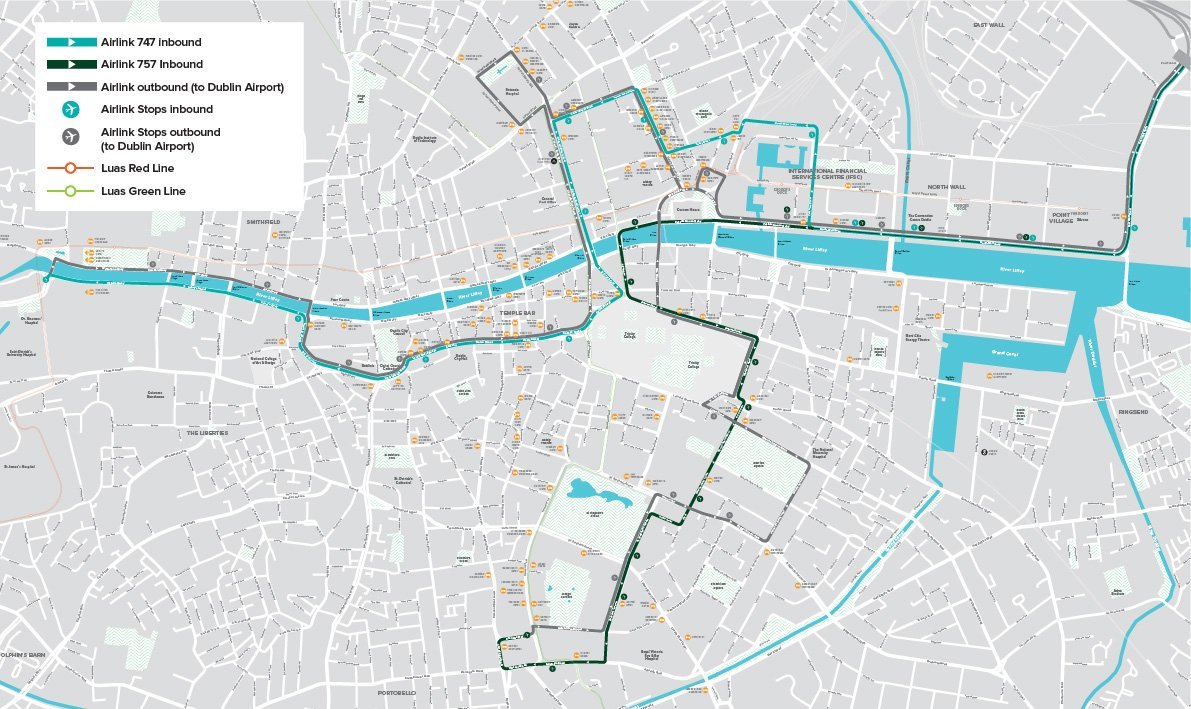 Ritira i tuoi biglietti presso il nostro desk dell'aeroporto di Dublino
Airport Desk
Visit our Bus & Travel information desk, in the Arrivals Hall of Terminal 1 to buy bus
tickets and have all your travel queries answered.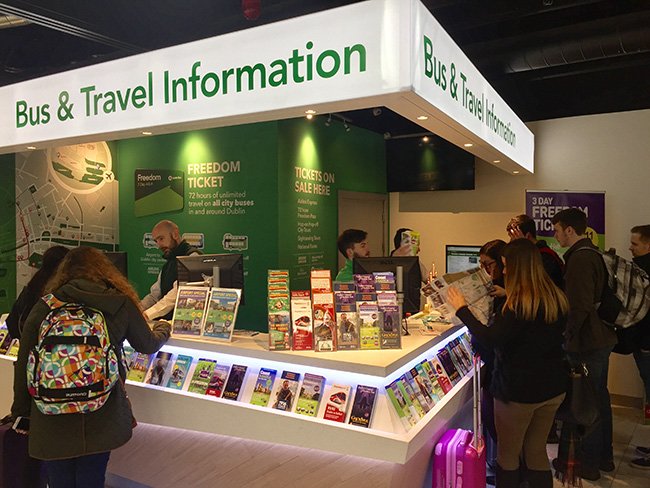 Passengers arriving in Terminal 2 can speak to our Meet & Greet staff located outside the
exit to Terminal 2, or simply walk over to Terminal 1 to visit the desk.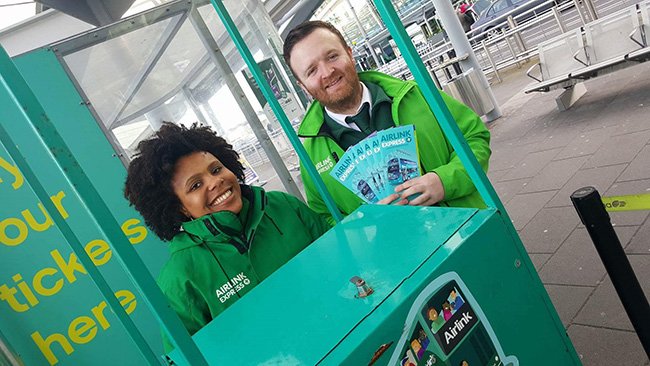 Combine your
Airlink & hop
on hop off tour!