Wir verkaufen jetzt Tickets für den Aircoach Flughafenbus. Folge dem Link!
Read More

20% Rabatt auf die Hop-on-Hop-off-Tour mit dem Big Green Bus
Read More

Airlink Hin- und Ruckfahrt
What can I expect
Schnellste Route durch den Dublin-Tunnel
Abfahrten bis alle 10 Minuten
2 Routen - preiswertester Flughafentransfer
Klicken Sie hier für einfache Fahrkarten
Please Note:
GUTSCHEINE FÜR ONLINE GEKAUFTETE TICKETS MÜSSEN AUSGEDRÜCKT WERDEN UND KÖNNEN AUF SMARTPHONES ODER TABLETS NICHT AKZEPTIERT WERDEN. KINDERTICKETS: Kindertickets sind für Kinder im Alter von 5 bis 15 Jahren. Kinder unter 5 Jahren können in Begleitung eines zahlenden Erwachsenen kostenlos mitfahren.
Schnellste Route durch den Dublin-Tunnel
Jeden Tag ab 4.45 Uhr bis 00.30
Besuchen Sie unser Reisebüro in der Terminal 1 Ankunftshalle
Kaufen Sie online, direkt vom Fahrer oder bei unseren Büros
Der Airlink Express betreibt zwei Routen - die originale 747-Route zwischen Dublin Flughafen und Heuston Hauptbahnhof, und die neue 757 zwischen dem Flughafen und Camden (Charlotte Way und Harcourt Street)
Die 747-Route bedient: Point Village & 3Arena, North Wall Quay (Central Bank),The Convention Centre Dublin, Irish Financial Services Centre (IFSC), Commons Street, Talbot Street; The Central Bus Station (Busáras), Connolly Rail Station, Gardiner Street, Cathal Brugha Street, O'Connell Street, College Green & Temple Bar, Christ Church Cathedral, High Street, Ushers Quay and Heuston Rail Station.
Die 757-Route bedient: North Wall Quay (Central Bank) The Convention Centre Dublin, Irish Financial Services Centre (IFSC), Custom House Quay, Eden Quay & O'Connell Bridge, Hawkins Street & Temple Bar, Westland Row, Merrion Square, St. Stephen's Green, Earlsfort Terrace, Adelaide Road, Camden (Charlotte Way) and Harcourt Street.
Bitte bemerken, dass die Airlink-Rückfahrkarten gultig fur drei Monaten vom Einkaufsdatum an sind, wenn sie online gekauft werden, oder wenn sie als eine vorausbezahltes Ticket zum ersten Mal aktiviert werden
Es gibt WiFi kostenlos in allen Airlink-Bussen
Fahren Sie mit dem Airlink Express für Verkehrsanbindungen mit: Luas Green Line, Luas Red Line, Heuston Rail Station, Connolly Rail Station, Pearse Rail Station, The Central Bus Station (Busáras) as well as the Dublin Bus Public Transport Network.
Gutscheine für online-gekaufte Tickets müssen vorher gedruckt werden - sie werden nicht auf Smartphones oder Mobilgeräten akzeptiert.
GÜLTIGKEIT :
Ein Airlink Einzelfahrt ist gültig für eine einfache Fahrt mit dem Airlink-Bus in beiden Richtungen
KINDERFAHRKARTEN:
Kinderfahrkarten sind gültig für Kinder zwischen 5 bis 15 Jahren .
Kinder, die jünger als 5 Jahre sind, dürfen kostenlos mitfahren, solange sie von einem zahlenden Erwachsenen begleitet sind.
Vom Flughafen zum Hotel Direct
Airport Desk
Visit our Bus & Travel information desk, in the Arrivals Hall of Terminal 1 to buy bus
tickets and have all your travel queries answered.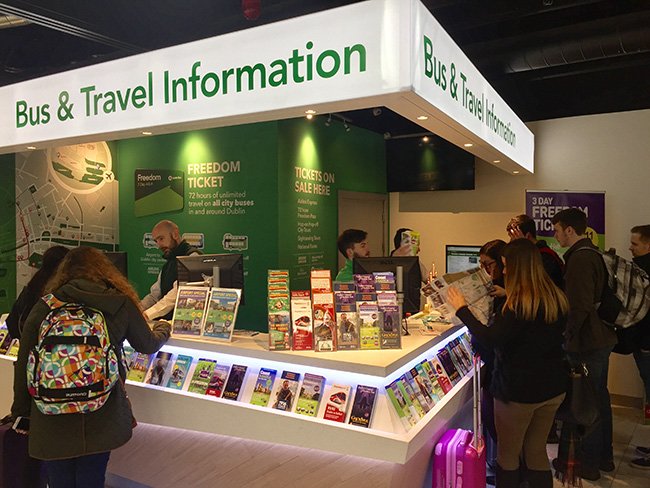 Passengers arriving in Terminal 2 can speak to our Meet & Greet staff located outside the
exit to Terminal 2, or simply walk over to Terminal 1 to visit the desk.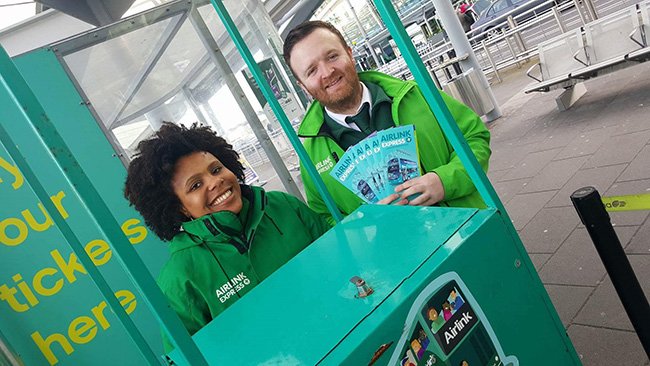 Combine your
Airlink & hop
on hop off tour!