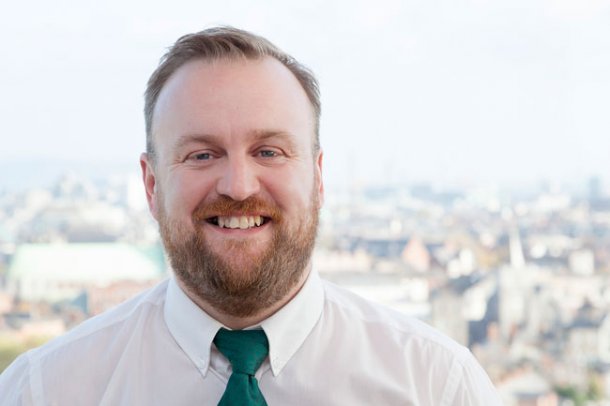 What's your favourite story to tell about Dublin?
I normally go into the story of 'Once' being filmed in Dublin and about Glen Hansard
winning the Oscar for the song 'Falling Slowly'. I do love to talk about the music scene
in Dublin, there's always a gig on somewhere in the City Centre.
What hidden gems do you advise tourists to visit?
Hansel & Gretel Bakery and Patisserie on Clare Street. It's a great spot to grab
something to enjoy during a stroll in Merrion Square.
Has there been a marriage proposal on one of your tours? If so, where?
Sadly not… perhaps one day though.
Has a tourist ever told you something new about the City which you didn't know about?
Not about Dublin itself, I don't think. However, I've been told about links to the tourist's
home whether it be a sculptor creating a monument or an architect who has designed a building in both Dublin and the tourist's hometown.
What tripadvisor are saying about Ian:
"Great introduction to the city of Dublin"
When you arrive in a city like Dublin it can be a bit overwhelming and sometimes the best way to get a feel for the city is to jump on a hop on bus. DoDublin had less pushy sales people so we went with them and we were glad we did. Our driver Ian (had a beard and told us he had no need for a barber anymore) provided funny facts and informative and informative from the outset. We wondered if he even knew he was doing it at times the one liners just kept rolling so much so that we stayed on the bus for the full trip. The automated version the fallowing day although still informative didn't hit the same spot. We went to the most visited place and prayed - we didn't win the lottery either
"Great way to get around"
Funny and interesting guides plus a great way to get around the city fast and easy! Damien, Jason, and Ian are all very entertaining guides!