Silver Works - Make Your Own Claddagh Ring
Join Silver Works for a 2-hour workshop where you will learn how make a Claddagh Ring by learning the basic skills of goldsmithing and make your very own ring.
What can I expect
Learn how to make a Claddagh Ring
Expert guidance from the team of Goldsmiths
Tea, Coffee and chocolate treats provided
Acquire new and unique skills
Also available from Silver Works
Make Your Own Claddagh Ring
Whether you are interested in learning a new skill or you want to create something in a fun and relaxed environment, this workshop is for you.
During the class you will learn how to make your own silver Claddagh Ring.
What is a Claddagh Ring?
This is a traditional Irish ring in which a heart represents love, the crown stands for loyalty and the two clasped hands symbolize friendship.
You will begin with a Claddagh Ring strip and you will learn the basic skills of goldsmithing that will allow you to transform this into a gorgeous, made to measure Claddagh ring that you will be proud to say you made yourself.
What you will learn
You learn the basics of goldsmithing which includes;
How to mark using a scribe and pierce your strip of silver with a jewellers saw.
How to form a ring using pliers and a ring mandrel
Watch it being soldered whilst being explained the process by your teacher
How the file the ring using different size hand files
How to texture the ring using a planishing hammer - if you want to
Watch it being polished on a polishing motor to your chosen finish - matt or shiny!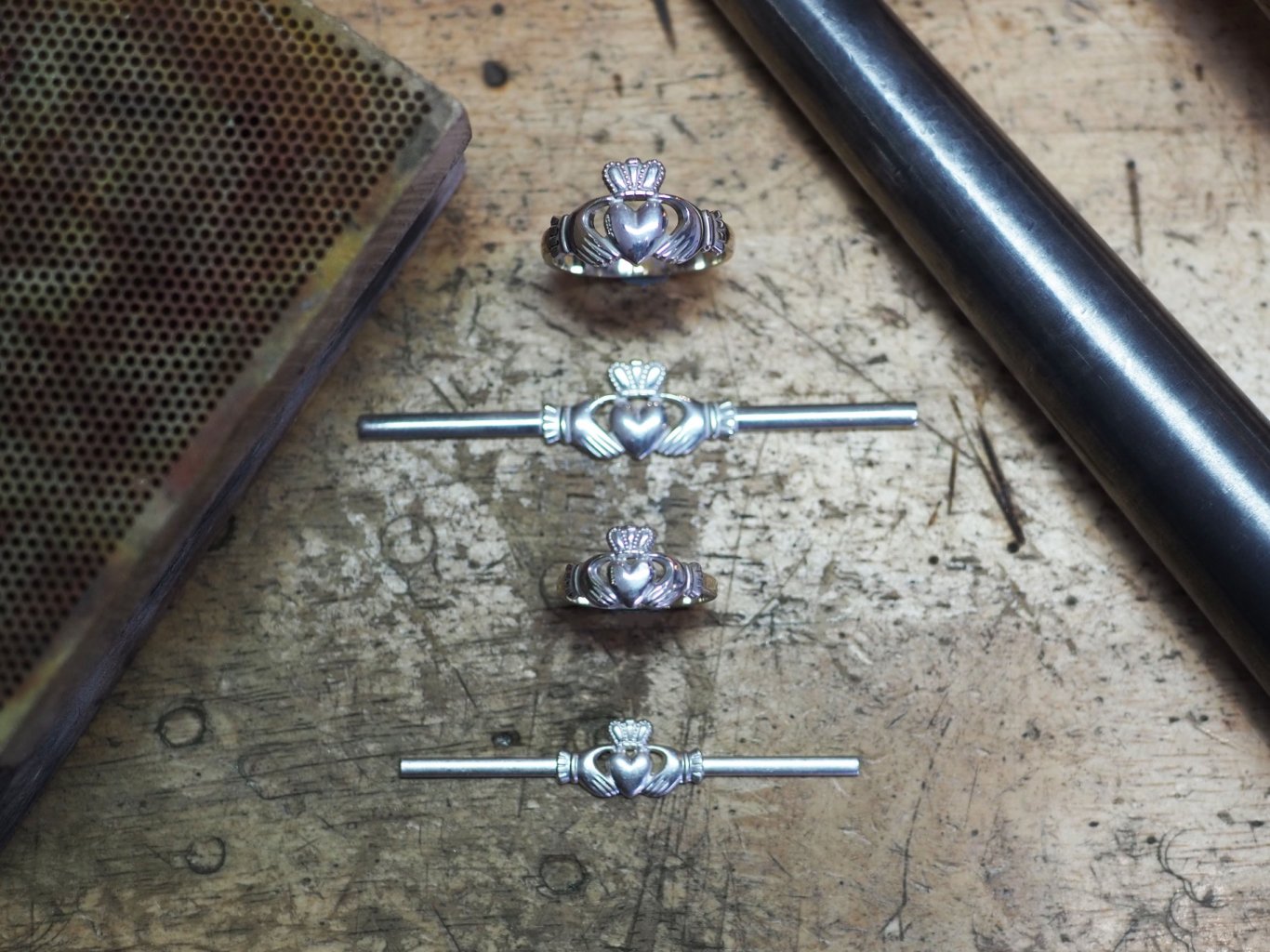 Buy Silver Works - Make your own Claddagh Ring Tickets
Maximum 6 tickets per class - subject to availability.
Workshop duration - 2 Hours
Tea, coffee and chocolate treats provided
Please wear closed shoes
All tools and equipment, drills & aprons are provided for the duration of the course
Silver Works - 24 Drury St, Dublin, D02 V658