Due to Government guidelines regarding Covid-19, Hop on Hop off Tour and Airlink services are suspended until further notice.
Read More

Airlink - Schlagen Sie das Flughafentaxi
Schlagen Sie das Taxi
What can I expect
Sparen Sie Geld und Zeit vom Flughafen Dublin
Schneller als eine Taxifahrt und viel billiger!
Nur Flughafentransfer, der den Dublin Tunnel benutzt
Liefert Sie direkt ins Stadtzentrum
Please Note:
SCHWARZES FREITAG ANGEBOT - PROMO CODE "BLACKFRIDAY" FÜR 50% AUF ALLE TOURS DIESES WOCHENENDE. GUTSCHEINE FÜR ONLINE GEKAUFTE TICKETS MÜSSEN AUSDRUCKEN UND NICHT AN SMARTPHONEN ODER TABLETTEN ANGENOMMEN WERDEN.
Der Airlink Express Service betreibt zwei Routen;
Die 747 Route; zwischen Dublin Airport und Heuston Rail Station und
Die neue 757 Route zwischen Dublin Airport und Camden (Charlotte Way und Harcourt Street)
Kaufen Sie online und sparen Sie oder besuchen Sie unseren Schalter in der Ankunftshalle T1
Sprechen Sie mit unseren Mitarbeitern in Green Jackets
Bringt Sie zu Standorten in der ganzen Stadt
Der Airlink durchquert das Stadtzentrum von Dublin, so dass Sie ganz gleich, wohin Sie auf einer unserer Routen fahren, in die Nähe kommen.
Die 747 Route dient;
Das Convention Center Dublin und IFSC
Connolly Rail Station und Busáras - Für Bahn- und Busverbindungen in Irland
O'Connell Street
Dame Street - Trinity College, Christuskirche Kathedrale
Heuston Rail Station - Für die Bahnverbindungen in Irland
Die 757 Route dient;
Nordwandkai
Temple Bar
Merrion Platz
St. Stephen's Green
Camden und Harcourt Street
Gutscheine für online gekaufte Tickets müssen ausgedruckt werden und können nicht auf Smartphones oder Tablets akzeptiert werden.
Klicken Sie für
Informationen für Fluggäste in Echtzeit zu allen Airlink-Bushaltestellen Laden Sie die Dublin Bus-App herunter:



Der Airlink scheint das zu sein, was jeder benutzt und wir konnten verstehen warum. Schnell, sauber und günstig, und der Fahrer war sehr hilfsbereit und freundlich. Sehr empfehlenswert!





Vom Flughafen zum Hotel Direct
Please visit Airlink Diversions page for info on current route diversions.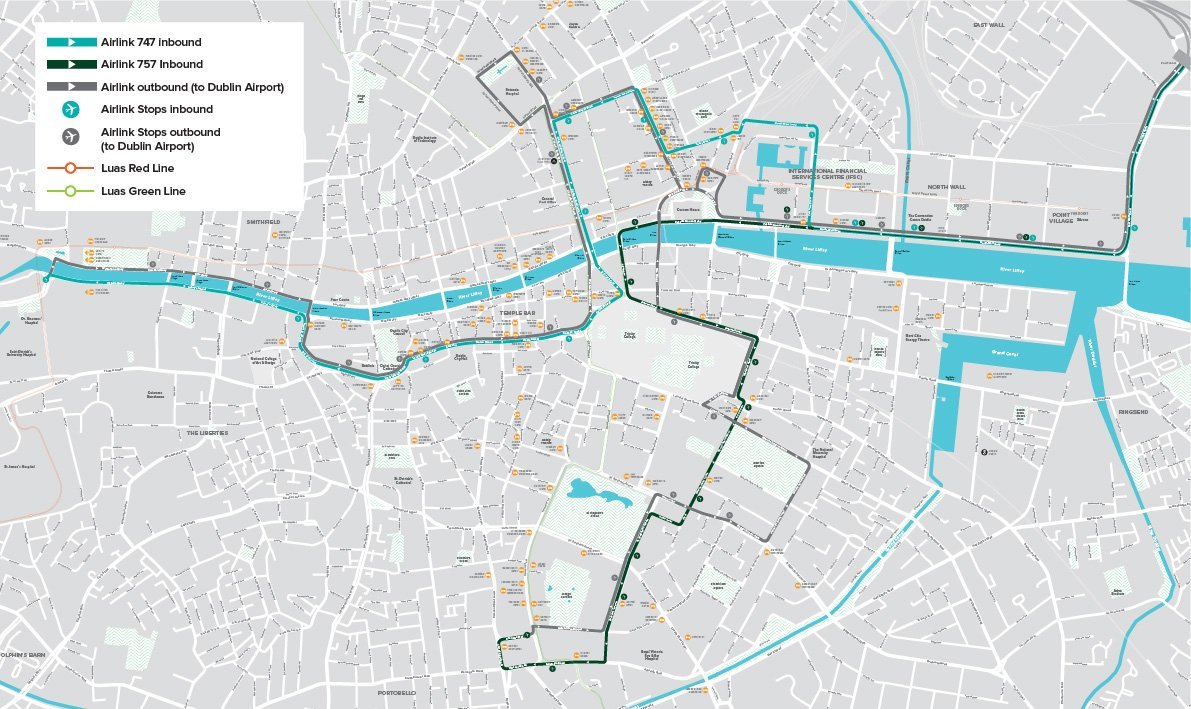 Airport Desk
Visit our Bus & Travel information desk, in the Arrivals Hall of Terminal 1 to buy bus
tickets and have all your travel queries answered.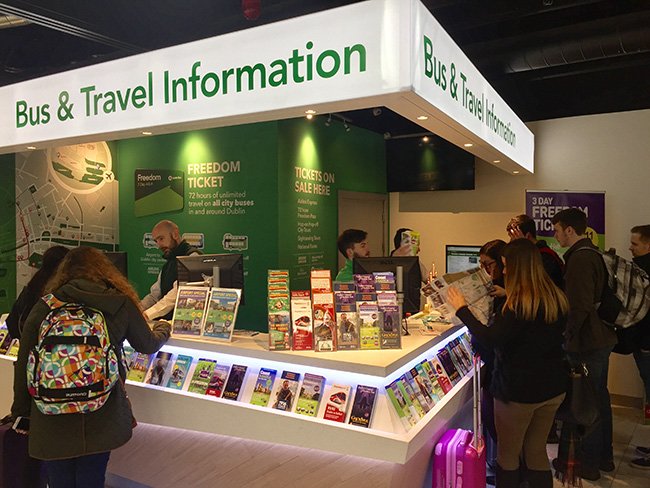 Passengers arriving in Terminal 2 can speak to our Meet & Greet staff located outside the
exit to Terminal 2, or simply walk over to Terminal 1 to visit the desk.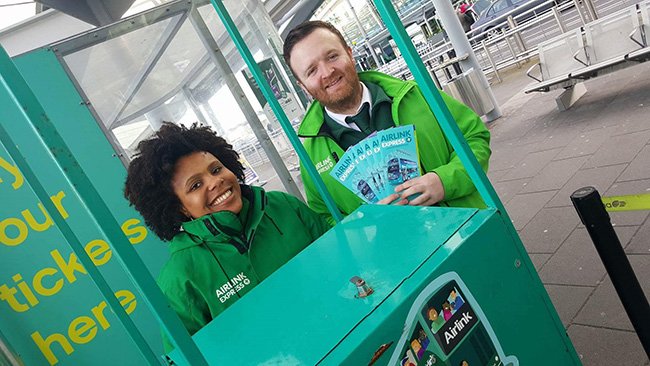 Combine your
Airlink & hop
on hop off tour!