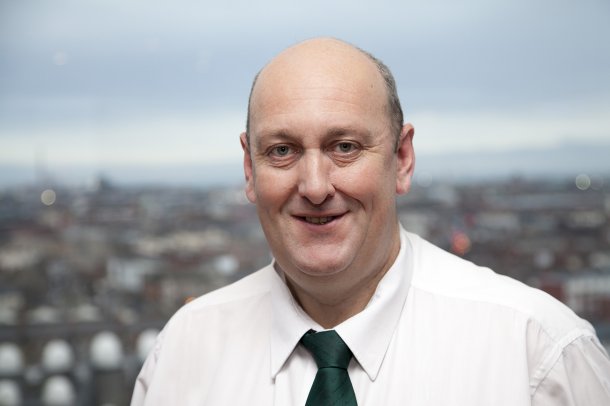 What customers are saying on TripAdvisor about John:
"Quick two days tourist track"
We had two whole days, and the hop-on hop off tour was a great way to start as well as helping us focus. The driver was funny, informative, and shared his love for this city and the Irish. It was well worth the ticket and I would have paid double. Myself and three friends plus the 11 year old son got on the bus confused and wondering how to fit it all in. We ended the tour with a clear plan of how to see all that was important to us with the time available. The driver, John, was great craic. Go for the GREEN BUS. You know it makes sense. Hard to beat for the cost - cannot compare to the other hop-on hop offs but I like the color green. Inside and outside seating on a double decker. Do it. What are you waiting for?
"Green is Good - Red is Different"
Cannot praise this company and its product highly enough; our driver John, was very knowledgeable, funny and helpful, he created a wonderful atmosphere with his commentary and driving skill, the vehicles were modern and comfortable, a wonderful way to see and learn about Dublin's Fair City; John's continual use of the phrase 'Green is Good' was definitely proved.
"This bus supports the Irish people- not for profit!"
Our excellent guide - John was fantastic and had a great sense of humour. When we found out the green bus profits are fed back into running the general bus population in Dublin we were pleased to have supported them.
"Hop On Hop Off Tour"
Leap card was recommended but I ended up getting 72hour DoDublin bus pass and I was so glad that I chose Green! To hear that I was helping the elderly and physically challenged by going Green, was very meaningful. The live tour was very much appreciated (instead of the pre-recorded tour for the entire trip). Stops 2 to 32 took about 2 hours. I believe the driver was John. Thanks John!!
"Well done overview of Dublin!"
We have done these hop-on tours in many cities around the world and the green bus tour in Dublin is among the best we have experienced. Buses are modern and clean with good sound. Buses are on schedule with 15 minute intervals. A combination of live and taped narration gives lots of good humour and info. John was a delightful driver/tour guide