Dublin Hop-on Hop-off Tours:
Red Bus and Green Bus
Dublin's Hop-on Hop-off Bus tours; City Sightseeing Red Bus and DoDublin Green Bus
City Sightseeing in their famous red buses have been operating in Dublin for over 20 years. They work alongside the DoDublin green hop-on hop-off bus and while the two companies are essentially competitors, such are the numbers of visitors to Dublin city that there's always enough customers for both.
The Red and Green hop-on hop-off tour buses bring millions of visitors on a tour of their fair city each year, taking in the North side of the city including Dublin's main street O'Connell Street and crossing over the River LIffey to pass by College Green, St. Stephen's Green, Dame Street and continuing on to the famous Liberties. Their routes both form a loop that covers most of the city centre so if you plan your visit carefully you can use the Red or Green bus tours to bring you close to anywhere in Dublin.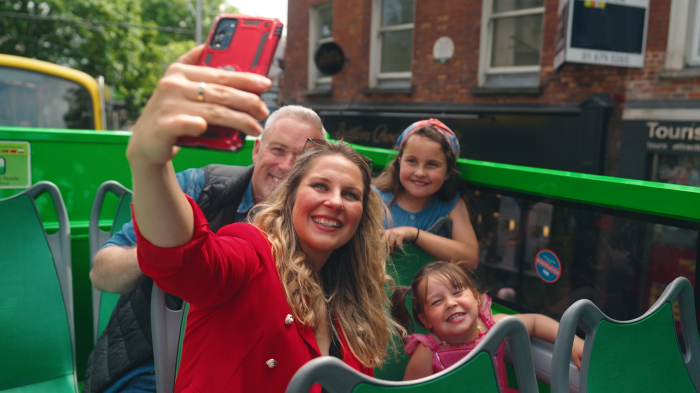 1 Day Hop-on hop-off Tickets
Follow the link to purchase 24 hour tickets for Dublin's No.1 tour. With Fáilte Ireland trained tour guides you're guaranteed an informative and always entertaining tour of Dublin town.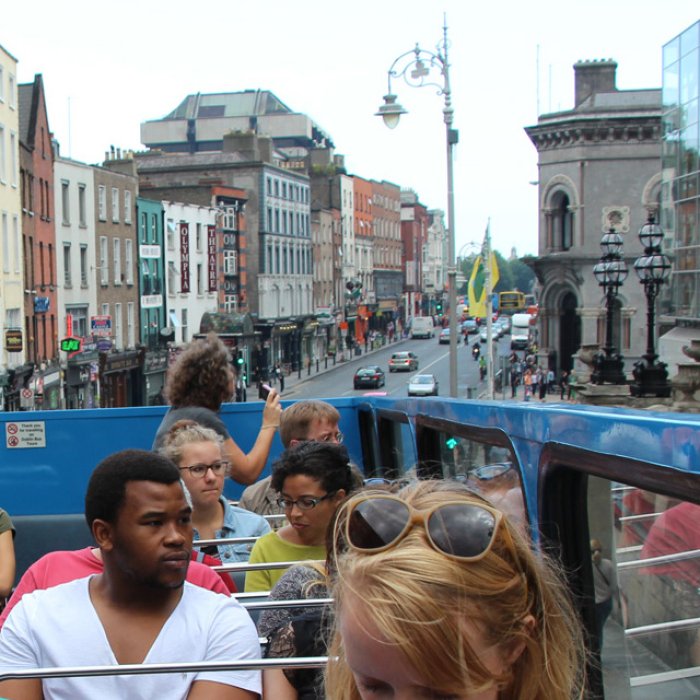 2 Day Hop-on hop-off Tickets
Click for 48 hour hop-on hop-off tour tickets. If you're spending 2 days in Dublin it's much better value to go with the 48 hour option. For €5 extra you get an entire 2nd day on Dublin's famous Open top bus tour.
Comparing the Red Bus and Green Bus Tours:
The City Sightseeing Red Bus and DoDublin Green bus compete over everything, but both offer excecptional value and great terms including;
Red Bus and Green Bus both accept mobile tickets
Red Bus tickets are valid on any day, same is true of the green bus
The Red bus have free cancellation, likewise for the Green
Red Bus has recorded audio in 8 languages, the green bus has same in 9 languages
Red Bus and Green both offer a free Walking Tour
Both the Red and Green bus run tours 7 days a week from 9am until 5pm (7pm in Summer)
Tour routes are similar and both Red and Green tour visits all of Dublin's top attractions including Trinity College, Jameson Distillery and EPIC
About the Red Bus and Green Bus tours
The City Sightseeing red bus tours operate in many countries around the world including Spain, Germany, Dubai, Iceland and the United Kingdom. They provide recorded commentary only but audio is available in 8 different languages and covers topics including the history of Dublin, architecture and stories of famous Dublin figures including playwrights, singers, artists and historical figures.
DoDublin are a part of Dublin Bus and have been part of the fabric of Dublin city since 1988. They have both live and recorded commenrary and their tour guides are known around the world for their wit and entertaining tours. DoDublin tour guides are trained by Fáilte Ireland, the Irish tourism board and as they're all Dublin Bus drivers they all know the city of Dublin like the back of their hands.
Visit all Dublin's top Attractions
Both the Red Bus and Green Bus tours will bring you on a carefully designed route weaving through the city of Dublin to ensure you visit all of the city's top tourist attractions. The Red and Green bus stops are located close together for the most part with stops directly outside leading attractions like the Guinness Storehouse, The Jeanie Johnston Famine Ship, IMMA the Museum of Modern Art, Teeling Whiskey Distillery and many more. Buses from the City Sightseeing Red bus tour are approx. every 30 minutes while the green buses are every 20-30 minutes.
DoDublin's green bus tour does boast one major advantage which is that it has more 5-Star reviews on Tripadvisor than any hop-on hop-off tour in Europe. In the words of one satisfied customer;
"First thing you should do in Dublin, I promise it's the best thing you could start with!!" Colleen, Tripadvisor Jan 2023
The last word...
Dublin is a buzzing lively city of over 1 million inhabitants and It is awash with great tourist attractions, cafes, pubs and restaurants, not to mention of Europe's top tourist attractions.
Though it's history dates back to the Vikings and the year 888 it was the Georgian era that created the winding and oftentimes convoluted streetscape that exists today. It's great fun to wander around and get lost in the city centre; you'll be sure to discover some hidden gems when you do, but the best way to take it all in is on board a Hop-on hop-off tour so book a tour today and remember, when in Dublin don't just sightsee, Explore!