Dublin City Tour Reviews from Cruise Passengers
Dublin is a city packed with culture and iconic sites. Being so close to the coastline and the Dublin and Wicklow Mountains, there are a super selection of adventures and attractions awaiting every visitor. Dublin Cruise Ship Shore Excursions help visitors make the most of your limited time onshore enabling you to see the very best attractions and anything you have on your bucket list.
From great deals on the hop on hop off tour (exclusive to cruise ship passengers), to day tours to Malahide Castle & Howth Harbour , and Glendalough & Powerscourt Gardens, DoDublin Tours is the Number One Tour Company in Dublin when it comes to hosting cruise passengers.
We have been welcoming visitors to Dublin since 1988, and we're still as passionate about showing people around today. We create experiences that enable visitors to get under the skin of this fair city – relive its history, meet the locals, and get the best deals.
In any case, we could harp on all day long about us, but we think we should leave it to you – our customers. We have compiled some TripAdvisor reviews from cruise ship customers who have taken our tour.

Our visitor on their cruise stop in Dublin enjoyed the live commentary on-board their tour. All our team are Fáilte Ireland trained - which is the standard we set for tour guiding at DoDublin Tours.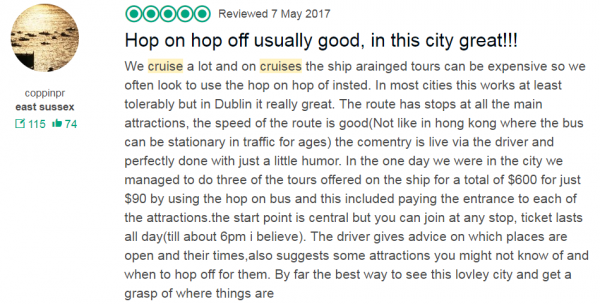 As highlighted by this reviewer, the best way to see the city is by using the hop on hop ff bus! "By far the best way to see this lovley city" - you can't get better than that!

As this reviewer highlights - the Hop on hop off tour is a great way to see the city if you're limited with time!

This visitor from Jacksonville only had a few hours as they were on a cruise, and the DoDublin Hop on hop off tour worked out perfectly!

This visitor enjoyed the live commentary and suggests purchasing the Guinness Fast-Track ticket. Great advice as the storehouse can be extremely busy.
If you're staying in the city a little bit longer, you might enjoy a 48 hour ticket or the 72 Hour DoDublin Card.
Looking for some coffee in the city? DoDublin spill the beans on some of the best coffee spots throughout the city!