Mybikeorhike - Stories and Sites of Dublin by Bike
What can I expect
Explore the city of Dublin by bike
Explore the hidden stories of Dublin with this guided tour
Cycle all around Dublin and see everything that the city has to offer.
You get a private local guide
Bikes and Safety can be included if required
See what Dublin City has to offer
Explore Ireland's capital by bike and discover the stories of the city that not everyone knows of. Enjoy the fresh air and sightseeing all in one in this unique tour.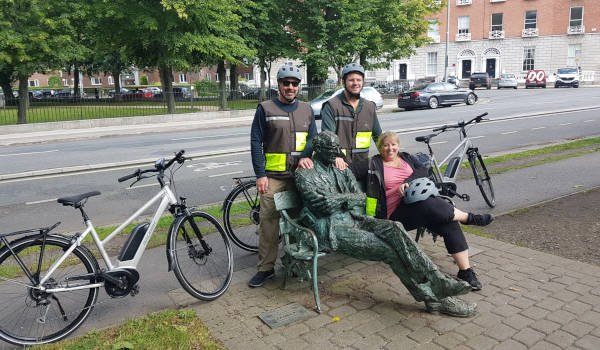 Full Itinerary of Stories and Sites
Capel St - A Story Connected with Kilmainham Gaol

The Sunlight Chambers - The Story if the soap factory behind the decorative walls

Dublin Castle

Dubh Linn Garden

The Dunlop Tyre Factory

St. Patrick's Cathedral

Teeling Distillery

Chamber St. - The story of the great whiskey fire of Dublin

Guinness Brewery and St. James' Gate

Irish Musuem of Modern Art (IMMA) and Gardens

Bully's Acre

Kilmainham Gaol

National War Memorial Garden

Liffey Tow Path - The story of how Oliver St. John Gogarty cheated death

The house that inspired vampire stories

Phoenix Park

Arbour Hill Cemetry

National Museum of Ireland - Collins Barracks

Liffey Quays and the story of 5 bridges.
You will not be disappointed by this great cyling tour of the city of Dublin.
The duration is approx. 2 hours

The minimum age for the tour is 16

Minors must be accompanied by an adult

Require the ability to ride a bike in an urban area

Tour is 20km/12.5 Miles

Bookings must include 2 people minimum

Must have a reasonable level of fitness