Day Trips to the North of Dublin city
Skerries
Visit the beautiful seaside town of Skerries and soak in picturesque views and incredible beaches, with many options for food, coffee or just an ice-cream (look out for Storm in a tea cup!) Take a trip to Skerries Mills, see the beautiful windmills and take a guided tour and learn of the interesting milling history of the town for approximately 50 minutes. Guided tours are available daily between 10a.m. and 4.30p.m. For more information visit the Skerries Mills website. Dublin bus routes 33, 33a, 33n and 33x all stop in this scenic seaside town.
National Botanic Gardens/Glasnevin Cemetery
These beautiful gardens located in Glasnevin in North County, Dublin are well worth a visit to those that enjoy botany or just want to see something beautiful. The gardens are home to over 20,000 species of plants, 3000 of which are endangered and some of which are now extinct. A gateway into Glasnevin Cemetery is open across from the gardens which is definitely worth your while visiting while you're there. Some of Ireland's greatest leaders, politicians and sports people are buried in the cemetery. Museum tours are available all week daily from 10a.m. to 6p.m. Plan your visit to Glasnevin Cemetery here. Dublin buses 4, 9, 40d, 83 and 88n all stop in the area.
Saint Anne's Park

The second largest municipal park in the Dublin area, Saint Anne's Park is highly recommended by all those who visit it. The park is situated between Clontarf and Raheny in North County Dublin. The park was originally owned by the Guinness family who had been building up the estate since 1835 until it was sold to the corporation in 1939. A variety of events are held in the park including band performances, family days and floral schemes. Also on offer are golf course and pitch and putt, leisure walks, rivers, pools, views of the Irish sea, iconic Dublin sea shelters, sports fields, tennis courts and a variety of wildlife. Saint Anne's Park is served by bus routes 29a, 32 and 130.
National Aquatic Centre
Located in Blanchardstown, the National Aquatic Centre is Ireland's largest indoor swimming arena. Facilities include a a leisure area with water rides for both children and adults known as AquaZone. Ask any Dublin child that has been and they will confirm that there is no better day out 10 lane 50m x 25m international standard swimming pool with seating for 2500 spectators, a 25m international standard diving pool, , a fitness centre known as ToneZone and a café and restaurant. Dublin buses 38, 38a, 38b, and 220 For information visit the National Aquatic Centre website.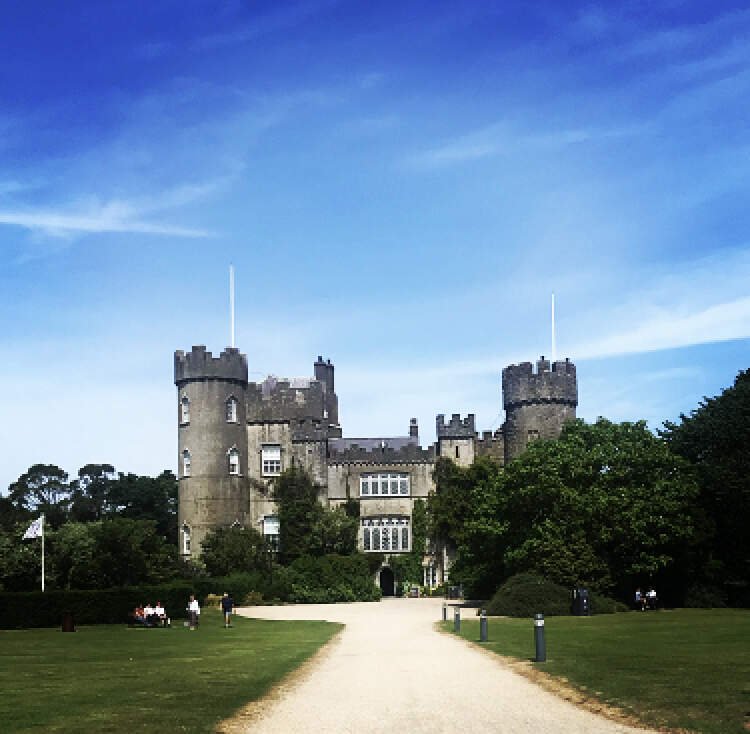 Take a tour of Malahide Castle in Fingal north co. Dublin. Tours last approximately 45 minutes and start at 9.30 in the morning and the last guided tour begins at 4.30 in the afternoon Monday to Sunday. The castle is over 800 years old and was resided in by the Talbot family until 1975. While there explore the sights of this scenic costal village and take a walk up the marina. There's loads of great cafés, restaurants and bars in Malahide for fine dining or just a relaxing cup of tea. Buses 32, 32x 42 and 102 all stop in Malahide. Follow the link for more information on Malahide Castle.