Malahide Castle - Plan Your Visit
What can I expect
Magnificent medieval 12th century castle just 30 minutes from Dublin City
Hear the stories of generations of the Talbot family who lived at Malahide Castle for 800 years
Guided tours and interpretive centre at the castle.
Choose between the Classic Castle Tour or the family friendly Magical History Castle Tour
Explore the gardens and Butterfly House set among the lush parkland
Malahide Castle & Gardens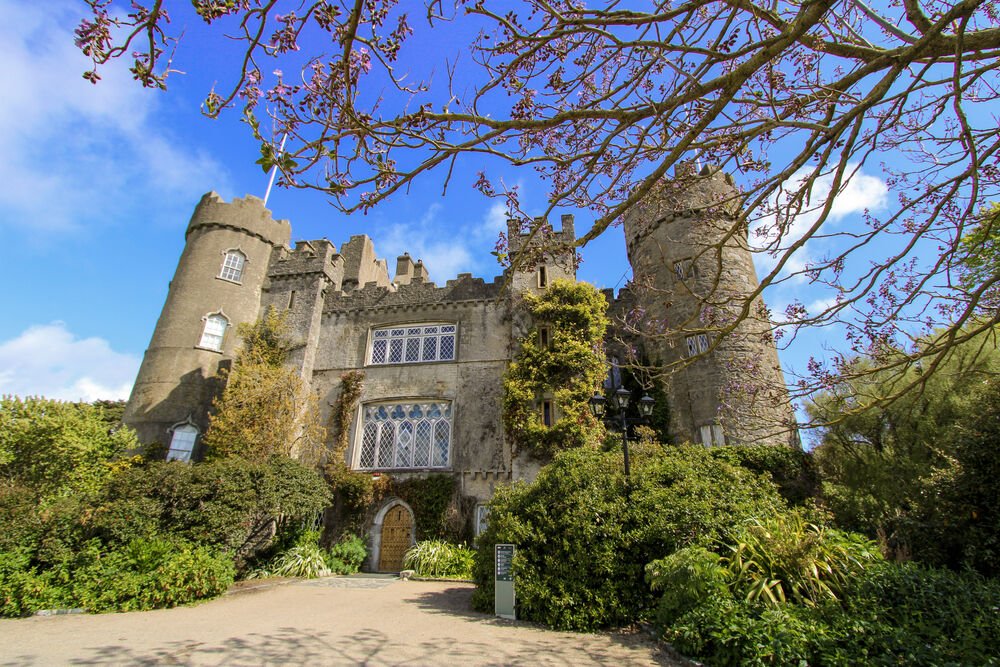 Malahide Castle is one of Ireland's oldest castles, and one of its most spectaculr. Less than 30 minutes from Dublin City, the castle boasts a rich history dating back to 1174. You can pre-book your admission to the castle and its stunning botanical gardens - the guided tours of Malahide Castle will bring you through over 800 years of the castle's history, and you will visit the stunning reception rooms and bedrooms which are filled with stunning antique furniture and oil paintings. The castle is set on 260 acres of stunning parkland, and you can explore the castle grounds at your leisure.
Guided Tours at Malahide Castle
Visitors to Malahide Castle can choose between the Classic Castle Tour or the family friendly Magical History Castle Tour.
Classic Castle Tour
Enjoy the guided tour through 800 years of history of Malahide Castle. Learn about the Talbot family and the significant historical events that shaped their lives and which impacted on Ireland's history. Explore the private rooms and furniture and art collections, and learn about the battles and banquets from your guide. Your castle tour ticket includes entry into the Botanical Gardens & Butterfly House.
Magical History Castle Tour
This tour is perfect for families and includes entry into the Fairy Trail & Butterfly House. On the Magical History Castle Tour, you will hear tales and fables of the magic behind the walls of Malahide Castle. From fairies and goblins to donkey eared Kings, children's imaginations will be set a light as they hear about life in the castle and the adjoining enchanted woodlands. Tickets for these magical castle tours include entry into the Fairy Trail where 1.8km of an interactive experience will keep your children enthralled and entertained for hours!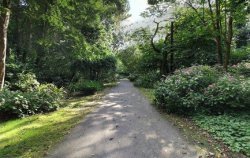 Malahide Castle is set on 260 acres of parkland, and among that, lies the stunning gardens and Butterfly House. This area is a stunning retreat just minutes away from Dublin City. Within the gardens, visitors will discover 5,000 plant varieties, perfect picnic spots, and stunning walking trails.
Visitors can also experience the only Butterfly House in the Republic of Ireland. Step inside the stunning Cambridge Glasshouse in the Walled Garden and watch the colourful creatures fly among tropical plants and spot their individual traits and markings. Pick up a leaflet at the Admissions Desk to help you identify the various species.
Malahide Castle Tickets
Pre-booking is highly recommended for Malahide Castle's tours. You can book tours directly from Malahide Castle's website.
Day Tours to Malahide Castle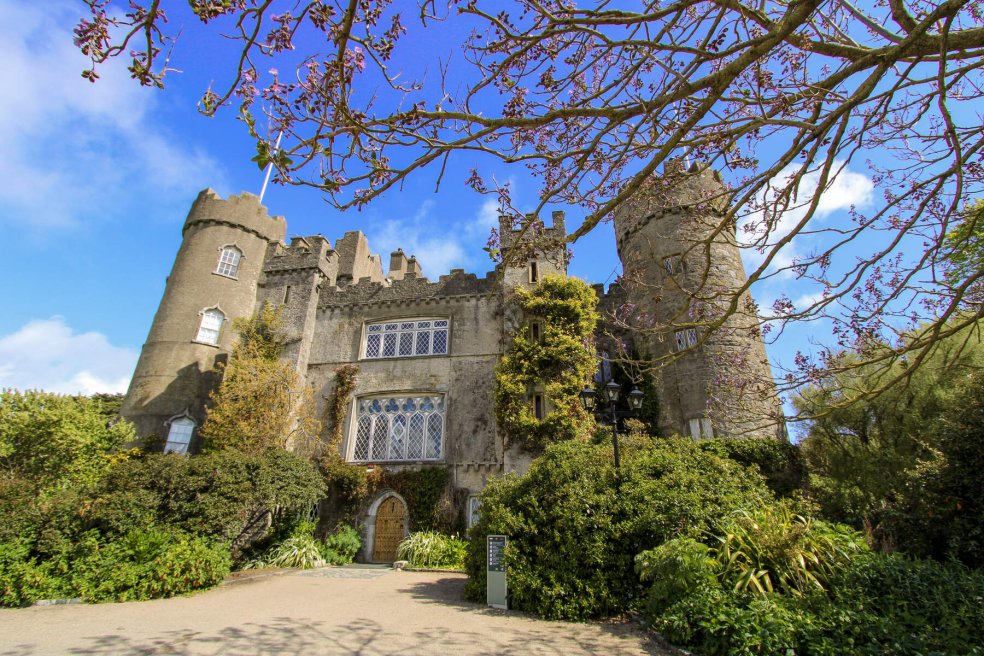 DoDublin operate the Malahide Castle & Howth Day Tour. This is a five hour guided bus trip which leaves from Dublin City inlcuding a stop at Malahide Castle & Howth. Your tour will also pass by stunning sites along the North Dublin Coastline including Clontarf, Howth Head, and Portmarnock. Learn more about the tour here.
Getting to Malahide Castle
Malahide Castle is located just outside the village of Malahide in County Dublin.
Bus
You can take Dublin Bus Routes 32 and 42 to Malahide Castle - the bus stop here is less than 200 metres from the Castle. For more information on Dublin Bus routes, visit dublinbus.ie. There is also a direct bus from Dublin Airport to Malahide village on route number 102, this is operated by Go-Ahead.
DART & Irish Rail
The castle is approximately a ten minute walk from Malahide Station.
The Classic Castle Tour is approximately 45 minutes.
The Classic Castle Tour has audio guides which are available in Irish, French, German, Spanish, Italian, Russian and Mandarin.
The Magical History Castle Tours are fully guided in English. There are no audio guides available for this tour.