Croke Park
Ireland's biggest stadium and the 3rd largest in all of Europe is affectionately referred to as Croker by Dubliners. Located on Jones Road, the stadium was first opened in 1884, is rich with Irish history and is the national headquarters of the GAA (Gaelic Athletic Association). The national sports, Gaelic football and hurling make up the vast majority of events taking place at Croke Park, however the stadium has been known to host major concerts with Bruce Springsteen, One Direction and U2 all having performed there in recent years.
Plan your visit to Croke Park today!
DoDublin Historical Fact: On 21 November 1920 (Bloody Sunday), Croke Park was the scene of a massacre. In retribution for the earlier killing of 15 British Intelligence officers, the Royal Irish Constabulary (RIC) entered the ground during a Gaelic match between Dublin & Tipperary and began shooting into the crowd, this act resulted in the deaths of 14 civilians including one player, Michael Hogan who know has a stand named after him in Croke Park.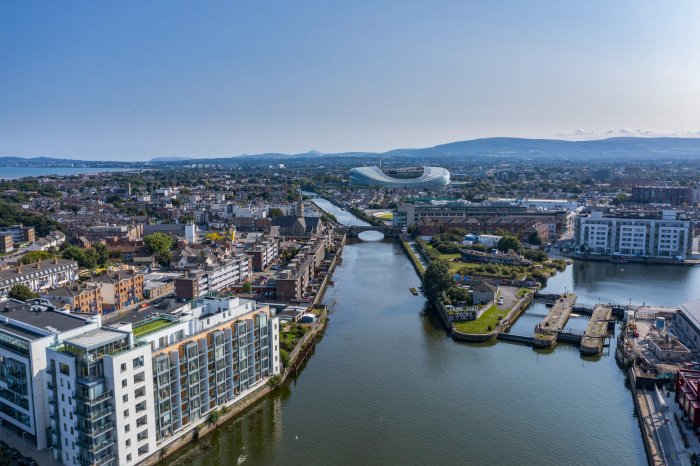 The Aviva Stadium
Located on Lansdowne Road, The Aviva is home to the Irish national soccer and rugby teams. The Europa League final won by Porto was held in this stadium back in 2011 with rugby's Heineken Cup final taking place in the ground in 2013. Top international football clubs like Manchester United, Liverpool and Barcelona have all participated in pre-season friendlies in the stadium. AC/DC, Madonna and Billy Joel have all performed in the stadium in recent years. The Aviva will be a host stadium for the Euro 2020 Championship.
DoDublin Historical Fact: The stadium is built on the site of the former Lansdowne Road stadium which was first opened in 1872 as an athletics ground. The ground has also hosted huge concerts by Robbie Williams, Oasis and U2.