Ghosts, Ghouls, Body-Snatchers & Gravediggers
What can I expect
Terrifying Stories, Scares and Laughs
Experience a real life Exorcism
Visit Dublin's darkest underbelly
Sinister Ghostbus Storyteller & his evil assistant
Also available from DoDublin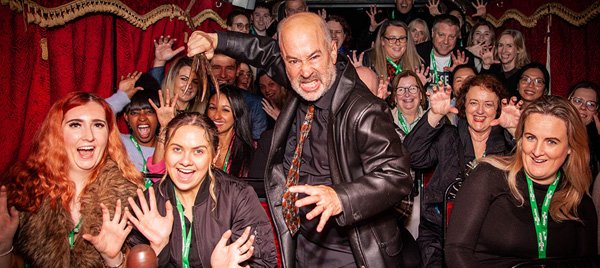 Take the Ghostbus tour and experience darker side of Dublin - There is a sinister side to our city, it's hidden from the ordinary people of Dublin, and even those who know it's secrets do their best to keep it supressed, but the Ghostbus tour we delight in shedding light on the worst of Dublin's history.
Get on board and meet two of the shadiest people in Dublin, your Ghostbus storyteller, and his evil assistant and driver Francis. These are two men you don't want to mess with. The kind of characters you'd least want to meet walking down a dark alley. By day they work as gravediggers, happily providing this service to the community. Gravedigging is more of a vocation than a job for them, but by night they become lords of the macabre as they whisk unsuspecting innocent victims on a tour of all that is ugly, rotten and depraved in Dublin city.
The Ghostbus tour is a fantastic night out. It's entertaining, scary and fun all at once, with professional actors a specially designed bus. Ideal for an office night out, taking your partner out on a date, hen parties, birthdays or for anyone visiting the city who loves the macabre. It's can be a bit scary for kids under 14, so we ask parents to use their discretion.
Buy Ghostbus Tour Tickets
VOUCHERS FOR TICKETS PURCHASED ONLINE MUST BE PRINTED OUT AND CANNOT BE ACCEPTED ON SMARTPHONES OR TABLETS.
Tour Departs
Start at Dublin Bus Headquarters at 59 Upper O'Connell Street, Dublin 1.
Private Hire
The Ghostbus is ideal for office nights out and Christmas/Hen parties. If you'd like to book a private hire please contact info@dodublin.ie
Tour Duration
Approximately 2 hours.
The tour does not operate on a Sunday.
Please Note:
This tour is not suitable for children under 14 yrs.
This tour is not wheelchair accessible.
Tours is provided in English only.
Please arrive 15 minutes before the tour departure. Seats that are not filled 15 minutes beforehand may be resold.
The Ghostbus Tour may not be suitable for people with a nervous disposition.
The Ghostbus tour takes place in all weather conditions. Please dress appropriately.