Hop-on Hop-off
Live Tour Auf Deutsch
DoDublin's Live Tour Auf Deutsch has returned! Enjoy a fascinating tour of Dublin city with a native German speaking tour guide.
All the DoDublin tour guides are native German speakers who live in Ireland and know the city as well as any Dubliner. Learn about Dublin's history and culture, visit all the most notable landmarks and top attractions while enjoying an entertaining commentary in German with plenty of jokes and songs in every tour!
Live German tours depart on Wednesdays, Fridays and Saturdays. Tours depart at 10:15, 12:15 and 15:15. Purchase tickets for the 24 hour or 48 hour hop-on hop-off tour and join the German tour at any of these times. Note; your 24 hour and 48 hour tickets are valid on any DoDublin hop-on hop-off tour bus, so you are not restricted to just the live German tours. Also every second DoDublin bus offers recorded commentary in German as well as 8 other languages so there are plenty of options for visitors who do not speak english.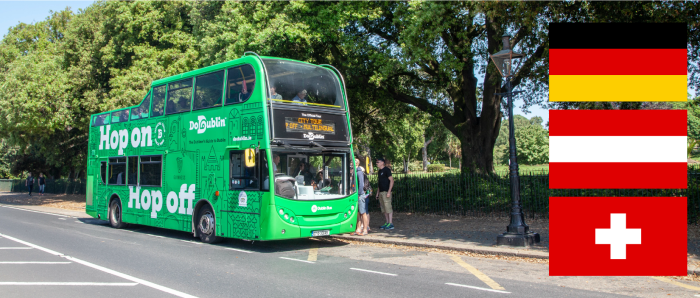 24 hour tickets - German Tour
Take Dublin's only live city bus tour in German. This unique tour provides an intimate presentation of the best of Dublin city that you won't find anywhere else. Visit all of Dublin's top attractions on the way!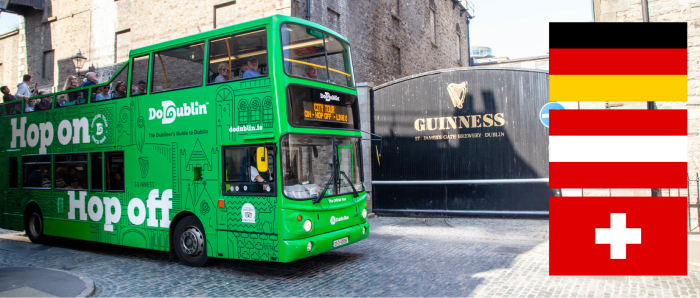 48 hour tickets - German Tour
The 2 day hop-on hop-off tour offers better value at only €5 more than the 1 day ticket. Note 48 hour tickets active on first use so if you only wish to take the German tour than you should purchase for use on Friday and Saturday.
Visit Dublin's most celebrated attractions including EPIC the Irish Museum of Emigration, the Guinness Storehouse, Christ Church Cathedral and the Book of Kells at Trinity College. Our Hop-on hop-off tour has stops right beside all of the city's top attractions but we'll also take you to visit the less famous attractions, many of which are hidden gems like the Chester Beatty Museum, Marsh's Library and the National Museum Collins Barracks. Your live German tour guide will entertain you with anecdotes from Dublin's past and stories from life in Dublin today! You'll see where many famous Dubliners were born and lived, including James Joyce, Oscar Wilde and Bono from U2.