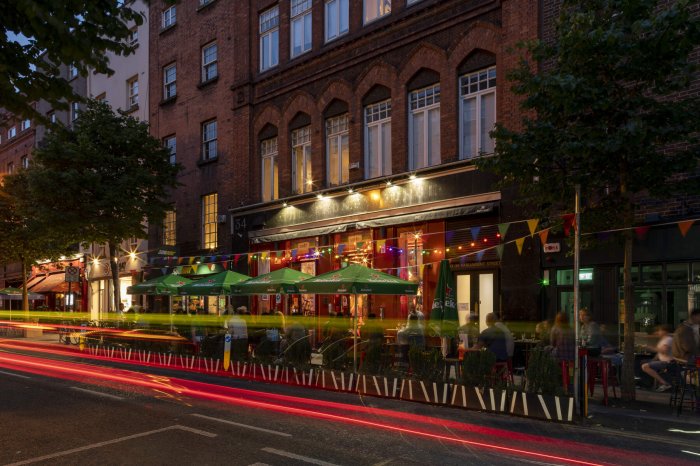 Token Dublin
Probably, the most unique bar in Dublin is where we start. Token is unlike anything else you might find in the city. It's a bar, arcade and restaurant combined where you can enjoy a pint, burger and game of Street Fighter 2 at the same time. Located at 72-74 Queen Street, Smithfield, this is the place to be on a night out. If you don't drink, or don't want food don't worry, you can just have a game of Dance Dance Revolution instead!
Hop on Hop off Stop on Arran Quay
Mary's Bar
Need a new shovel? Fancy a pint? Then Mary's Bar is certainly the place for you. Not only is this unique little spot a great pub but it's also a hardware store. 8 Wicklow Street is where you'll find the only place in Dublin that will sell you a pint and a hammer at the same time. There is also a burger joint below the bar where you can chill out with a pint and have a bite to eat if you're hungry!
Hop on Hop off stop on College Green
The Barbers
Quite new to Dublin's unique bar scene, this quirky little spot in Stoneybatter is a hybrid of a Barber shop and a Pub. The theme is running throughout the pub from blue white and red polls hair dryer shaped lamps. Deals like a hot towel shave, a dry cut and a pint of Guinness are available as well. Located at 19 Grangegorman Lower, Arran Quay we know where we are going for our next haircut.
Hop on Hop off stop on Arran Quay
The Church
Unique is certainly the word for this Dublin pub which gets its name in a literal sense that it is actually an old church, how appropriate that Arthur Guinness himself got married in this Church. Built about 320 years ago around the 17th century it has now been renovated into a fantastic restaurant and bar. Live music and a late night bar make this Dublin venue perfect for a night out for food and craic later on in the evening. The Church is located on Jervis Street, Dublin 1 (you won't miss it!).
Hop on Hop off stop on Ormond Quay
The Bar with No Name
Not the name of the pub but just what it's known as because it genuinely has no name. Situated at number 3 Fade Street look out for the Snail outside to know you're there. When you go up the stairs into the bar it feels more like a house party than anything. Certainly one of Dublin's quirkiest and unique bars that although you'd think is a hidden gem is quite popular with Dubliner's and those who know about it.
Hop on Hop off stop on Dame Street
The Blind Pig
The Blind Pig takes you back on a journey to a secret bar in the 1920s when prohibition was the order of the day. The bar/restaurant has a website but an address for the premises is not given. Instead you have to book a reservation and they will send you on the details of where to go. Around the College Green area on the Southside of the city you can enjoy dinner and a few drinks in a very unique location!
Hop on Hop off stop on College Green (*We think)
Check out our favourite bars for a slightly different than usual night out, you'll find everything from arcade games to hidden city speakeasies and lots in-between. Hop on a DoDublin city tour and ask your driver/guide if they've ever visited one these quirky Dublin spots!