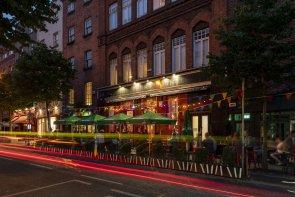 Token Dublin
Probably, the most unique bar in Dublin is where we start. Token is unlike anything else you might find in the city. It's a bar, arcade and restaurant combined where you can enjoy a pint, burger and game of Street Fighter 2 at the same time. Located at 72-74 Queen Street, Smithfield, this is the place to be on a night out. If you don't drink, or don't want food don't worry, you can just have a game of Dance Dance Revolution instead!
Hop on Hop off Tour Stop 30
Mary's Bar
Need a new shovel? Fancy a pint? Then Mary's Bar is certainly the place for you. Not only is this unique little spot a great pub but it's also a hardware store. 8 Wicklow Street is where you'll find the only place in Dublin that will sell you a pint and a hammer at the same time. There is also a burger joint below the bar where you can chill out with a pint and have a bite to eat if you're hungry!