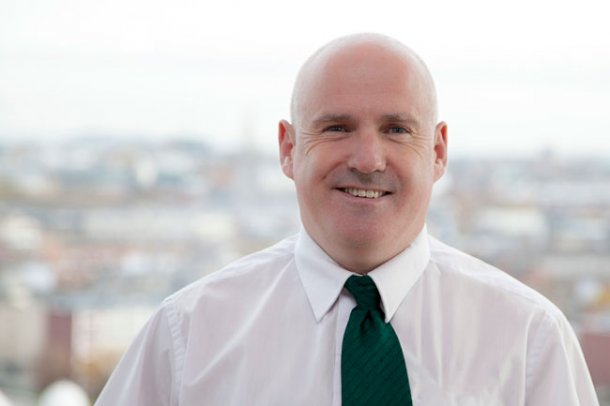 What's your favourite story to tell about Dublin?
The story of Kilmainham Gaol and its famous former prisoners, including the leaders of The 1916 Rising.
What hidden gems do you advise tourists to visit?
Bars in Temple Bar, my first job was in the Bad Ass Café.
What question do you get asked the most about Dublin?
Where has Molly Malone wheeled her wheelbarrow to now?
What's the strangest/funniest question you've been asked by a tourist?
Why is there a Jameson for 12 year olds?
Has there been a marriage proposal on one of your tours? If so, where?
I get asked all the time, but never again J.
What tripadvisor are saying about Martin:
"Ideal way to learn about the city"
We purchased 48 hour tickets which was really good value. On the first day we stayed on the bus to get our bearings and enjoyed the typical Irish humour of the driver Martin, his commentary made it a personal tour of the city.
"Super DoDublin tour"
What a super tour of Dublin I experienced on Sunday 16th July with DoDublin tours and Martin as our tour guide. It was so informative, getting to know Dublin city and learning about all the attractions that Dublin has to offer. It was the best two hours spent in Dublin City. I would highly recommend the DoDublin bus tour and if you are lucky to have Martin as your tour guide one should be ready for the craic and banter along the way. Super experience and a super tour guide. With a live tour it just creates that personal touch which to me is priceless rather than listening on earphone to pre recorded tour. Well done DoDublin tours!
"Absolutely excellent"
The tour was an absolute delight. The driver, Martin, was extremely lively and enthusiastic in his delivery, with a great sense of humour to boot. I would absolutely recommend this to any visitor to the city!
"Worth every penny."
My first time on the Hop on Hop Off, I rode around for a bit of time with Cillian, who is remarkably hilarious and a great singer. I hopped off for a bit and ended up walking back to my base camp as it was a beautiful day.
The next day, I decided to start the tour from the beginning on O'Connell Street and end it at O'Connell Street. So glad I did! My driver was Martin, and he was fabulous! He was personable, knowledgeable, and funny. He was able to provide an engaging and thoughtful tour, while giving a local's insight, perspective, and passion, without it feeling rehearsed or hackneyed. The tour enables one to see much more of the city than one could by merely walking. The ability to hop on and hop off also allows one to explore an area, and then hop back on until another destination peeks one's query. Thank you Martin and DoDublin for an amazing experience and memories of such a lovely city.
"Great tour"
Great tour very informative with Martin the driver keeping us going with songs and jokes.
My friends and I had a great time and learnt a lot about the city, and he told us the best places to eat and drink. Highly recommend this tour great way to see the city