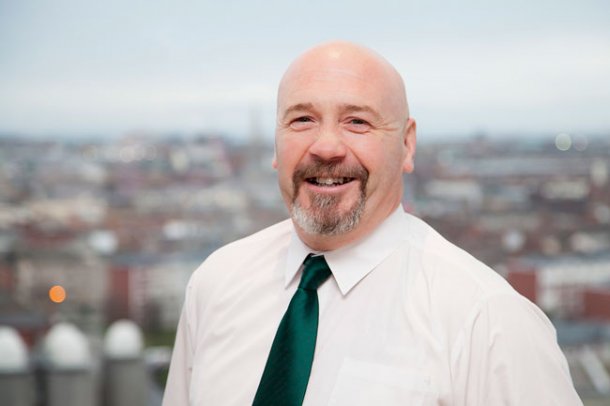 Check out Tyrone's content page
Favourite story to tell about Dublin?
The story of 'Cairbre' the MGM lion from Dublin Zoo. The first lion to appear as a
mascot for MGM film studios was a Dubliner.
What hidden gems do you advise tourists to visit?
Harkins Bar, the closest pub to the Guinness Brewery.
This was where that renowned Irish writer and playwright, Brendan Behan had his last pint of Guinness.
What's the strangest/funniest question you've been asked by a tourist?
Where can we go to see the little people? (Leprechauns)
Who are the chattiest tourists?
The Canadians, Scottish and English.
What tripadvisor are saying about Tyrone:
"Tyrone is great"​
We rode the bus several times during our two day stay and Tyrone was the best driver. He was interactive and sang songs
"Weekend away"
Went away with three friends for the weekend and it was brilliant especially the sight seeing bus. Worth the money, we went on live tour and our driver was Tyrone and it was wonderful.
"Excellent way to get round Dublin"
We have just spent 3 days in Dublin using the hop on hop off green bus company. Excellent service and made getting around Dublin so easy. It also covers getting to and from the airport so we thought it was really good value. The drivers were helpful, friendly and v knowledgeable telling us all about their great city. Lots of laughs, jokes and even a bit of singing on route from them. We had the pleasure of a driver called Tyrone who did live commentary for the whole route (very funny and very good). Would definitely recommend it to any one visiting Dublin.
"Great tour."
Great bus tour for over 2 hours around places of great interest in Dublin. Had a wonderful guide/driver called Tyrone who gave running commentary of sites and was extremely knowledgeable. As an added bonus a great sing song accompanied by 3 ladies from Liverpool who were on the tour. Would recommend tour and Tyrone to anybody!
"Where's Tyrone?!!"
We really enjoyed the friendliness of the tour guides, especially Tyrone. We looked out for him when we needed to catch the bus. Very informative, funny and great singing. Didn't have to wait long for a bus. We hopped on and off for the attractions we wanted to see, saved my aching feet!!Great value for money. We will definitely do this again can't wait to come back