Aircoach from Airport - Single
What can I expect
One Way ticket between Dublin Airport + City Centre (O'Connell Street, O'Connell Bridge and Kildare Steet stops Only)
Travel time is less than 30 minutes in off peak times
Present ticket on your phone - No need to print!
Each bus provides free usb charging stations as well as free WiFi
Buses leave Dublin Airport every 30 minutes during peak hours
Bus stops located at both Terminal 1 (situated in Zone 2) and Terminal 2 (situated in Zone 20) at Dublin Airport
Please Note; The Aircoach Bus does not stop at Heuston Station - see further information below
This page provides one way tickets only, please follow link for a return from airport
Also available from Aircoach
Aircoach is Dublin's most reliable and most comfortable Airport transfer service. You'll fly into the city centre on a luxury Aircoach bus in under 30 minutes outside of peak times. Wifi is provided for free, as well as usb charging points on every seat. Aircoach buses also serve key locations around Ireland, so it is possible to travel directly from Dublin Airport to destinations like Galway, Cork and Belfast. With more departures than any other Airport service Aircoach is the best option when visiting Dublin.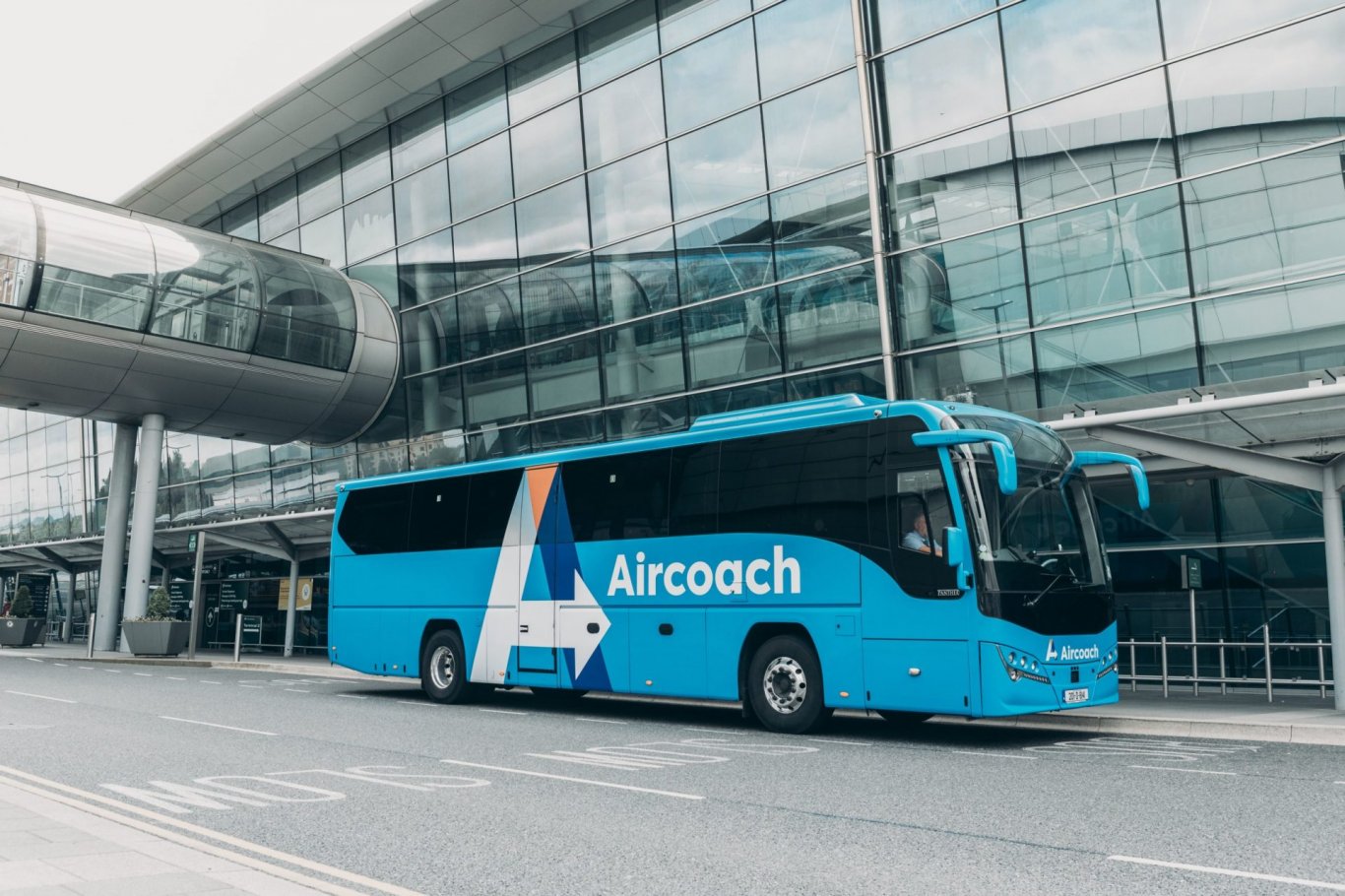 For Mini-Bus hire, Chauffeur driven and more Airport Transfer options between Dublin Airport and City Centre visit the Airlink Express Transfer Hub page
Buy Aircoach Single Ticket: From Airport Tickets
Present Aircoach tickets to driver on your phone - No need to print (but printed vouchers are also accepted)
If you need to amend your booking time please phone the following number and inform Aircoach that you have a DoDublin ticket and need to change the booking time; +353 (0)1 844 7118
Customer notice; For passengers wishing to connect with Heuston Station, you can take the Aircoach to the O'Connell Bridge stop, then take the 145 bus from the Quays to Heuston (which is a 25 minute walk otherwise)
Note; For all bus services in Ireland you need to put your hand out to let the bus driver know you wish to board his/her bus.
Please note; Aircoach do not accept Visitor Leap Cards or Leap Cards at this time.
KIDS TICKETS:
Tickets are for Children Aged FOUR to THIRTEEN years (inclusive).
Two kids aged zero to three can go for free when they are with a fee paying grown-up
Note; Traffic in Dublin can be particularly bad during rush hours, please give yourself additional time if you are travelling to/from the airport during peak times.