Aircoach from O'Connell Street Single
Aircoach ticket that can be used for a single joruney to Dublin Airport from O'Connell Street.
What can I expect
Single ticket for airport bus
Picks up at O'Connell Street
Express journey - 30 minutes off peak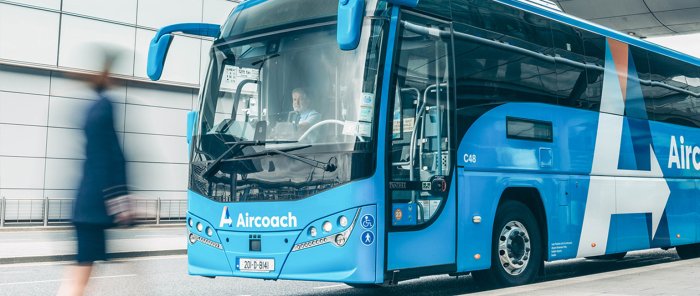 Jetting off and need to get to the airport? Look no further as we provide an express airport bus that will get you from Dublin City Centre to the airport.
Enjoy a hassle-free service when you travel with Aircoach.
Aircoach buses run every 15 minutes but seats will be subject to availability.
Hotels Nearby:
Hotel Riu Plaza The Gresham Dublin is four star hotel which is located directly across from the pickup for Aircoach
Holiday Inn express, Dublin City Centre is located beside The Living Room Pub just one minute walk from bus stop.
Academy Plaza Hotel is a four star hotel that is on Cathal Brugha Street, just off of O'Connell Street.
Cassidy's Hotel located on Parnell Square East.
Point A Dublin on Parnell Street.
Leonardo Hotel Dublin Parnell Street.
Castle Hotel, a five minute walk from O'Connell Street.
Activities Nearby:
DoDublin Hop-on Hop-off Bus Tour is right beside the Aircoach Stop on O'Connell Street.
The Ghostbus Tour starts on O'Connell Street with live professional actors that tell you all about Dublin's Dark past.
Wild Rover Day Tours pick up is beside the Aircoach pick up point and where you can go on full days tour to Cliffs of Moher, Glendalough & Giant's Causeway.
The General Post Office (GPO) is a popular tourist attraction as it has great significance in Irish history.
Aircoach stop for O'Connell Street located here: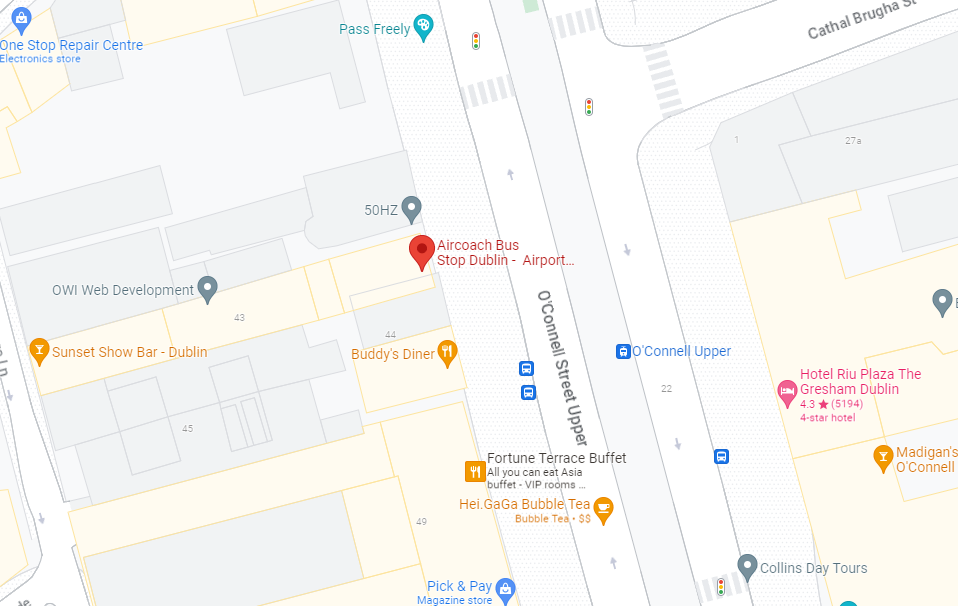 Buy Aircoach: Single Ticket from O'Connell Street Tickets
*Tickets from O'Connell Street to airport are only valid at the Aircoach stop on O'Connell Street*
Duration - 30 minutes off peak
Stop location - O'Connell Street
Tickets accepted on phone - no need to print
If you need to change your booking time please phone number and inform them you have a ticket from DoDublin and need to change the booking time +353 (0)1 844 7118
Children Tickets
Tickets are for children aged FOUR to THIRTEEN years inclusive.