Belfast Titanic Experience / Black Taxi Political Tour, Giant's Causeway and Dunluce Castle
Visit beautiful Belfast city, a hidden gem of Ireland! You'll begin your day by boarding your state of the art Wild Rover coach in Dublin City Centre. The trip north will treat you to some wild and beautiful countryside as you pass through Counties Dublin, Louth, Down and finally arriving in Belfast city centre in county Antrim at 9.30am approximately. From there the fun activities begin in what promises to be a day trip never to forget.
What can I expect
Experience the Giant's Causeway – world famous attraction and UNESCO World Heritage site.
Visit Dunluce Castle
Spend time in Belfast and choose between two great activities
Visit the world-famous Titanic Experience or learn about the city's recent rich and turmulent history on a Black Taxi Tour.
Most popular day tour from Dublin!
Also available from Wild Rover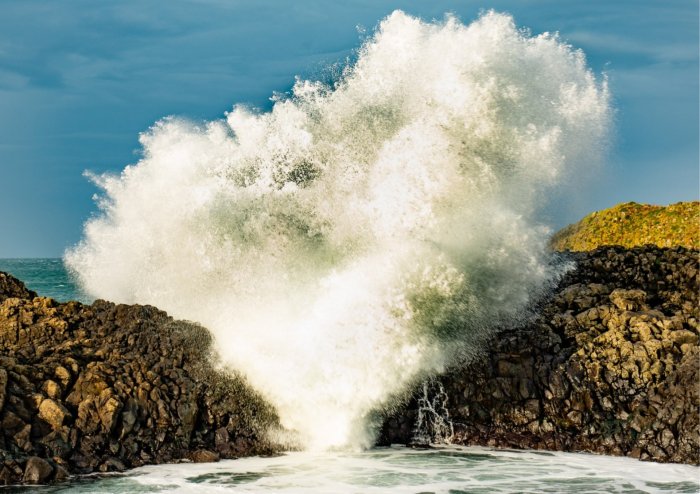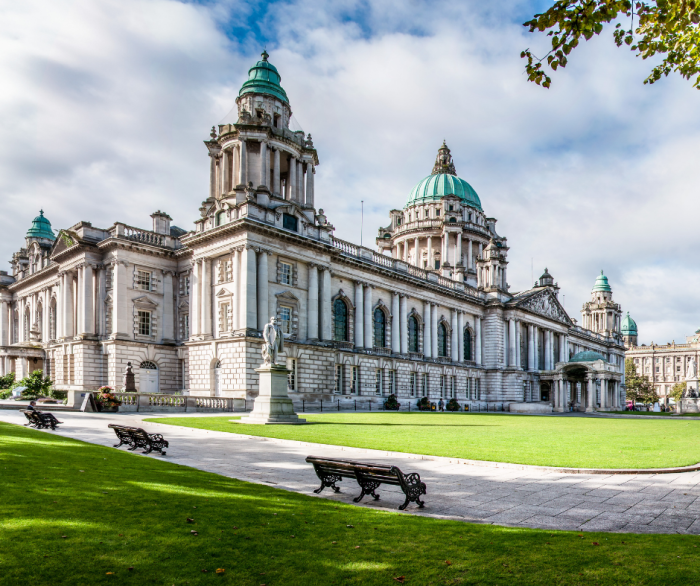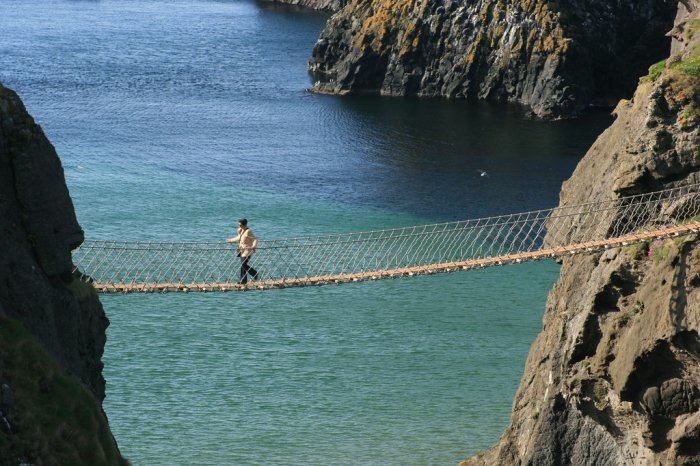 Discover Northern Ireland on a Day Tour
On arrival in Northern Ireland's capital, you can choose between two amazing activities - the world-famous Belfast Black Taxi Tour where you will hear of Belfast's fascinating history in a black taxi, or you can visit the state of the art World's Leading visitor attraction– the Titanic Belfast Visitor Experience, located close to the heart of this beautiful city.
Black Taxi Tour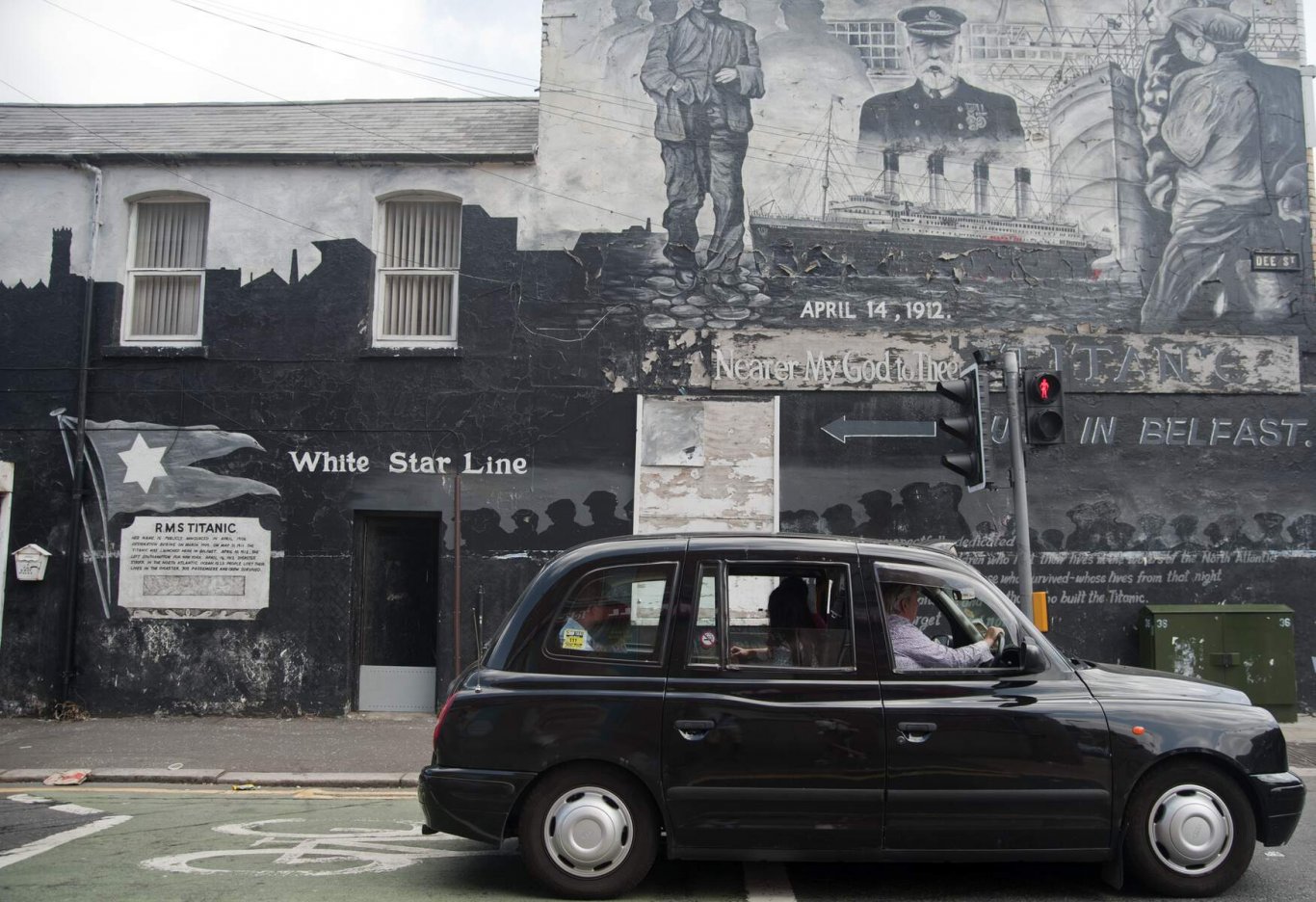 Visit and sign the Peace Line and join the list of world celebrities including Bill Clinton and the Dalai Lama who have signed their name to the wall. Walk along this huge wall which divides the two religious/national communities of east Belfast. The political murals, some of which are the most spectacular in the world, reflect a harrowing and tragic chapter in the history of Northern Ireland. Your personal local guide will relate to you their personal and family experiences of life in Belfast during The Troubles, some of the stories you quite simply won't believe.
Titantic Belfast Visitor Experience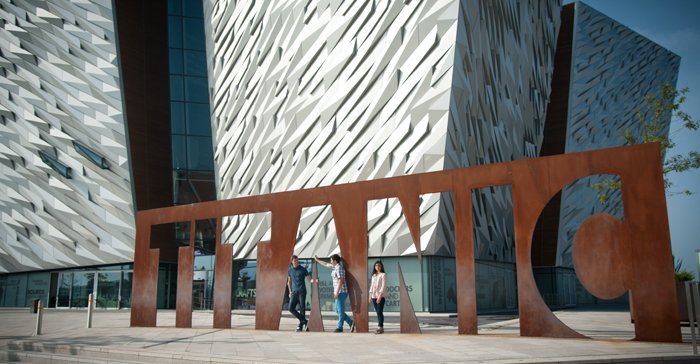 Your alternative to a Black Taxi Tour is to visit the Belfast Titanic quarter and the state of the art Titanic Visitor Experience. Here you can experience the entire life and story of the Titanic, from her fateful maiden voyage to her eventful discovery on the seabed of the North Atlantic. Learn about the origins, construction, launch and history of the Titanic. The experience contains interactive features so you can truly explore the Titanic story in an insightful light. The journey will take you beyond the aftermath of the sinking to the later discovery of the ship. This tour will also take you to the present day with a tour of the live undersea exploration centre.
(Parties / groups / families are very welcome to split up and choose separate activities) The tour will regroup before departing for the Giant's Causeway.
Experience the Giants Causway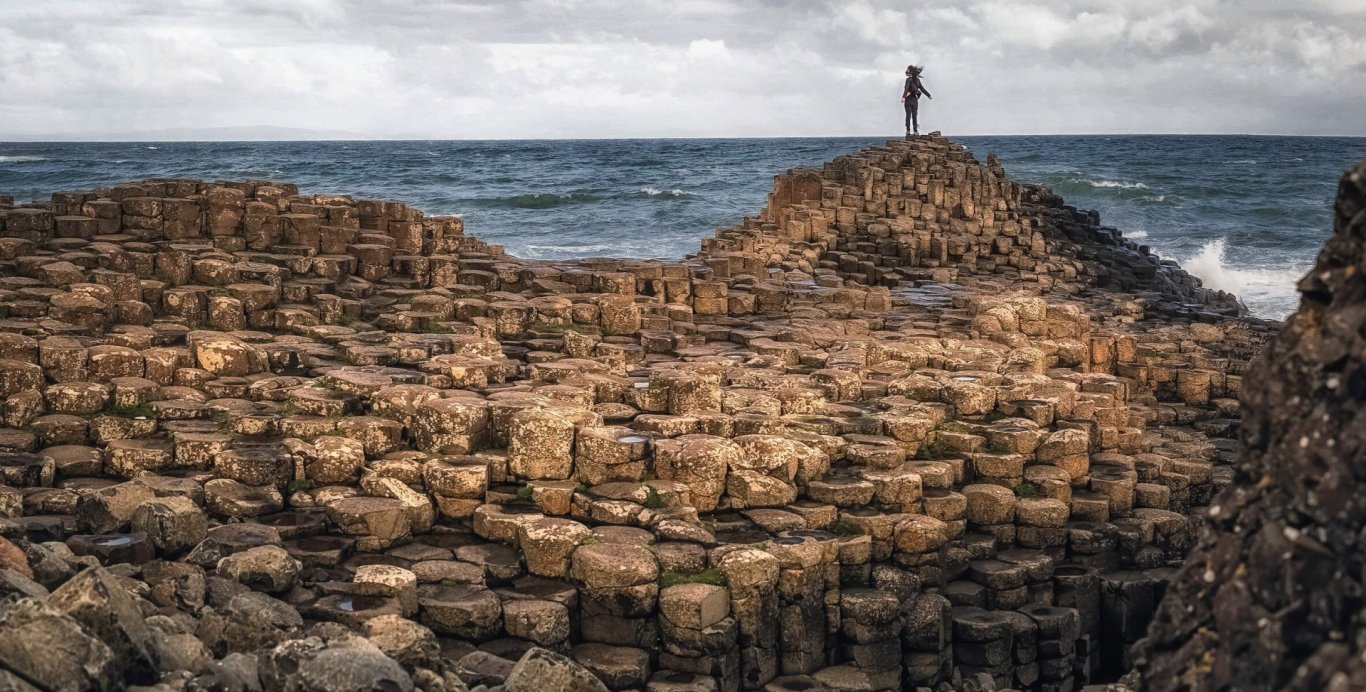 Departing Belfast at 11:50am, you will make your along the spectacular Antrim coast to the world-famous Giant's Causeway. Flanked by the wild North Atlantic Ocean and a landscape of dramatic cliffs, the Giant's Causeway is Northern Ireland's first UNESCO Heritage Site. This geological wonder is home to a wealth of history and legend and is a highlight of this day trip. The 40,000 basalt stone columns left by volcanic eruptions 60 million years ago, has captured the imagination of all who see it.
Explore the state-of-the-art visitor centre to unlock the stories, myths and legends of the causeway coast and discover the stories and the science behind the Giant's Causeway.
You will have 2 hours to explore the Giants Causeway.
Dunluce Castle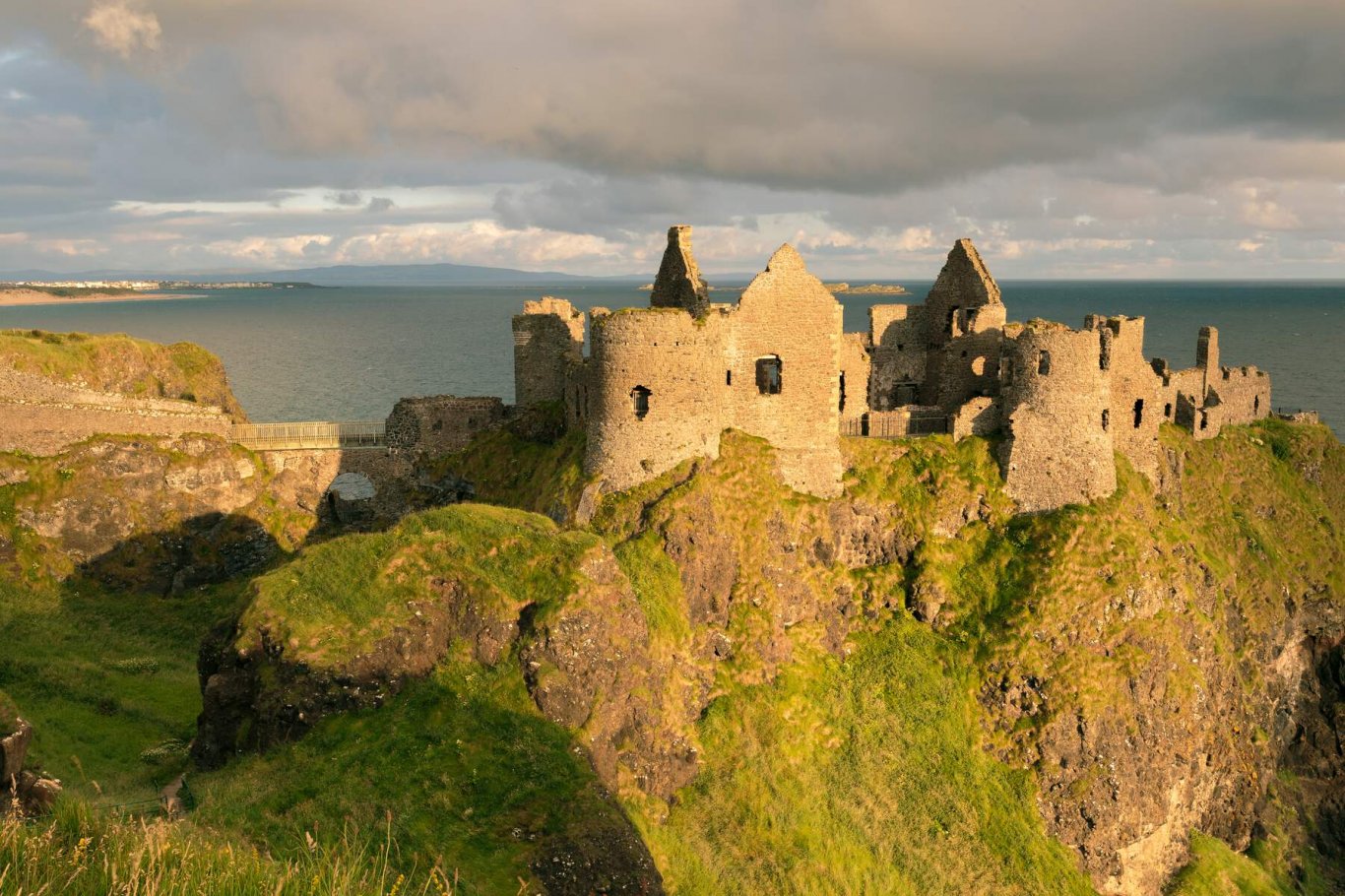 You'll also visit Dunluce Castle, one of Ireland's most stunning castles located overlooking the Antrim coast. Dating from the 16th century it was once a home to both the McQuillan and MacDonnell clans who were great rivals, so this castle has seen it's fair share of action during it's heyday!
At the end of this fantastic tour, sit back and enjoy the relaxing drive, where we will have a 20 minute rest stop after Belfast in Castlebellingham before arriving back to Dublin at 8:00pm.
Itinerary of Day Tour
Choose Pick-Up Location;
7:00am at The Starbucks Cafe on Dame Street / 1 College Green
7:05am at Dublin Bus Office, 59 O'Connell Street, Dublin 1
9:30am Arrival in Belfast- Belfast Titanic Experience / Black Taxi City Tour – visitation time of 2 hours 15 minutes.
1.00pm Arrive at Dun Luce Castle- visitation 35 minutes.
1:50pm Arrive at Giants Causeway- visitation time of 2 hours 30 minutes (food & beverage venues to choose from).
6:45pm Arrive at Castlebellingham - rest stop and bathroom break of 20 minutes.
8:00pm Arrive back in Dublin City Centre - Drop off point is at D'Olier Street, Dublin 2.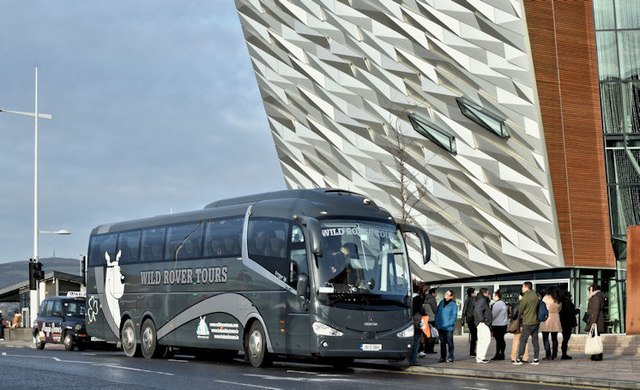 Buy Wild Rover - Belfast Titanic & Giant's Causeway Tour Tickets
All attraction costs included in ticket price.
Free wifi on-board your state-of-the-art coach.
Fully guided day tour.
Tour Duration: 13.5 Hours (Approx)
Full admission to the Giants Causeway Visitor Centre included.
Choose between a Black Taxi tour or Titanic Visitor Experience.
Fully guided day tour
Food and Drink not included

Choose Pick-Up Location;
OR
Dublin Bus Office, 59 O'Connell Street, Dublin 1
Please Note:
Student Ticket: Students (ID must be presented)
Infants under 2 years old are not permitted on this tour.