What can I expect
**Airlink Stops not operating on College Green & Lord Edward Street
Over 200 Departures Daily
Two Routes with Stops Throughout Dublin City Centre
Best Value & Buses up to Every 10 minutes*
Click for Airlink Return Tickets
Express bus transfer serving Dublin City & Airport
Fastest route - operating through Dublin Tunnel
7 Days a week - from 4.45am (06:30am on Sunday) to 00.30am
Visit our Bus & Travel Information Desk in T1 Arrivals Hall
Buy tickets online, directly from the driver, or at our offices
The Airlink Express service operates two routes, the original 747 route between Dublin Airport and Heuston Rail Station and the new 757 route between Dublin Airport and Camden (Charlotte Way and Harcourt Street)
The 747 Route serves: Point Village & 3Arena, North Wall Quay (Central Bank),The Convention Centre Dublin, Irish Financial Services Centre (IFSC), Commons Street, Talbot Street; The Central Bus Station (Busáras), Connolly Rail Station, Gardiner Street, Cathal Brugha Street, O'Connell Street, College Green & Temple Bar, Christ Church Cathedral, High Street, Ushers Quay and Heuston Rail Station.
The 757 Route serves: North Wall Quay (Central Bank) The Convention Centre Dublin, Irish Financial Services Centre (IFSC), Custom House Quay, Eden Quay & O'Connell Bridge, Hawkins Street & Temple Bar, Westland Row, Merrion Square, St. Stephen's Green, Earlsfort Terrace, Adelaide Road, Camden (Charlotte Way) and Harcourt Street.
Please note that Airlink Express return tickets are valid for three months from date of purchase if bought on line or when first validated with a prepaid ticket
There is free Wifi on board all Airlink buses to help you get organised and so you can let everyone know you've arrived in Dublin!
Take the Airlink Express to connect with; Luas Green Line, Luas Red Line, Heuston Rail Station, Connolly Rail Station, Pearse Rail Station, The Central Bus Station (Busáras) as well as the Dublin Bus Public Transport Network. See 747 and 757 route maps below for further information on transport links.
Get 72 Hours unlimited use of the Airlink Express, as well as the Hop on Hop off tour and the entire Dublin Bus Network with our best value ticket the DoDublin Travel Card.
VOUCHERS FOR TICKETS PURCHASED ONLINE MUST BE PRINTED OUT AND CANNOT BE ACCEPTED ON SMARTPHONES OR TABLETS.
Tickets may be purchased with cash directly on the bus. Please have correct fare ready as driver may not be able to issue change. Note; We cannot accept credit or debit card payments on the bus. Visitor Leap Cards and Leap Cards can also be used to purchase Airlink Express tickets.
CHILD TICKETS:
Child Tickets are for Children Aged 5 to 15 years.
Children under 5 years of age can travel free when accompanied by a fare paying adult.
FAMILY TICKETS:
Family Tickets are for 2No. Adults and 2No. Children Aged 5 to 15 years.
*747 route leaves up to every 10 minutes. 757 route leaves every 30 minutes.
VALIDITY:
The Airlink Single ticket is valid for 1 Journey on the Airlink Service in either direction.
Please allow extra time to make your journey to the Airport in Peak hours.
Please note: there will be no service on December 25th. Sunday Service will operate on December 26th, January 1st and on Bank & Public Holidays.
Click for
Download the Airlink City Bus Stop Map
The Airlink Express is the fastest, most frequent and best value service between Dublin Airport and the city centre. We are the only service operating through the Dublin Port Tunnel (including the taxis!) so we beat the hectic Dublin traffic every time.
For Real Time Passenger Information on all Airlink Bus stops Download the Dublin Bus app:


Airport Desk
Visit our Bus & Travel information desk, in the Arrivals Hall of Terminal 1 to buy bus
tickets and have all your travel queries answered.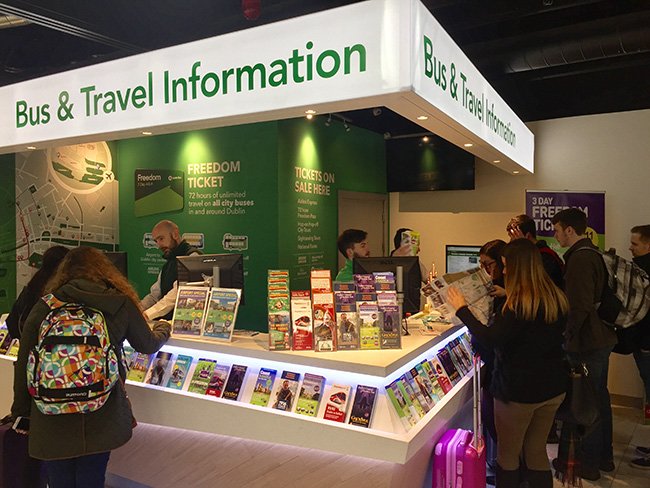 Passengers arriving in Terminal 2 can speak to our Meet & Greet staff located outside the
exit to Terminal 2, or simply walk over to Terminal 1 to visit the desk.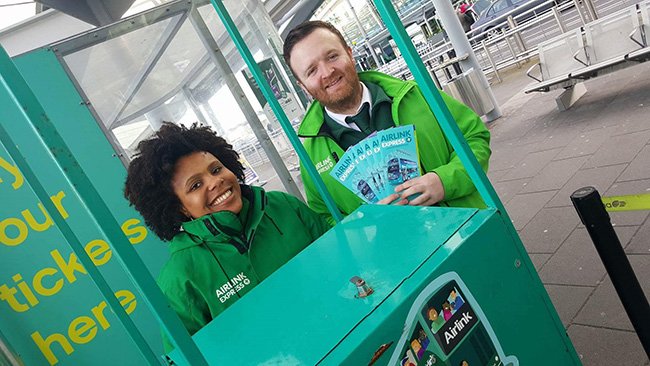 Combine your
Airlink & hop
on hop off tour!