The weather always takes a turn for the better in Dublin around Easter time, so you can leave the hats and scarves at home (actually better to bring them along in your bag just in case, an umbrella too for that matter!) get out to enjoy the sunshine and take in some of Dublin's amazing sights and visitor attractions. We've put together our top list of what's-on and things to do this Easter in Dublin's fair city 2022!
Theme Easter in Dublin / Historical activities
The 1916 Easter Rising plays a vital role in Ireland's history, Dublin is where it all began and the city retains a great legacy of historical references to the events of that time, from the historical landmarks that honour the rebels, tales of events that occurred in locations around the city that were passed down through the generations and even the bullet holes that can still be seen in many buildings in Dublin. Today we also have a number of fantastic interactive attractions that help uncover it all.
1916 Walking Tour
While the Spring sun is shining there's no better cultural activity in Dublin than to explore the streets involved in Irelands most famous uprising and hear the stories behind them. This original 1916 walking tour has been running for over 25 years and is presented by Lorcan Collins a historian and published author. The experience is as entertaining as it is inspiring, uncovering the heroic acts undertaken by the Irish patriots in pursuit of Irish Independence. Highlighted locations covered on the tour include the Custom House, Dublin Castle, Trinity College and many more.
Glasnevin Cemetery
Sticking with the theme of outdoor tours another great experience to discover while the weather is nice is Glasnevin Cemetery. Considered something of an information hub for those who wish to learn more about famous events and figures who have shaped Ireland, there are a variety of tours available to suit everyone while showcasing momentous headstones and stories. Ireland's National Cemetery is a resting place to 1.5 million people including Michael Collins, Eamon de Valera, and Daniel O'Connell.
GPO General Post Office
Acting as a headquarters for the leaders of the uprising, the GPO was almost completely destroyed during the Easter Rising, but fortunately the front façade was salvageable, and in the years following the conflict the interior of the building was re-instated. Within the General Post Office now lies an award-winning interactive museum giving visitors a unique insight into the Ireland's past through fascinating exhibitions and visuals. The symbolic building is remarkable inside and out and holds great significance.
Kilmainham Gaol
One of Europe's largest unoccupied prisons, Kilmainham Gaol once held thousands of criminals including those involved in famous historical Irish events such as the 1789 rebellion and 1916 rising. This attraction allows visitors to discover the stories of both common and political prisoners who spent time in the jail. See the prison from their point of view and learn about the living conditions and routines where they endured their sentences at "his majesty's pleasure".
Theme Easter in Dublin / Easter activities for kids
Easter Break is approaching, and Dublin has lots going on to keep the kids entertained! From craft classes to hunts there is plenty activities to choose from and get involved in over April.
Newbridge Farm
Fingal's hidden gem Newbridge Farm is hosting some Easter farm fun from 9 – 24 April. There will be a fabulous hunt for golden eggs hidden throughout the family farm located on the beautiful Newbridge Georgian estate. Explore the grounds, the many animal and bird enclosures and say hi to the animals that call them home. You'll also have the chance to count "Grety the Goose's" eggs and submit your best guess to be entered into a competition to win a festive prize. This event is ticketed and subject to availability.
Malahide Castle
The Malahide Castle fairy trail will be looking different this Easter as explorers will set on a quest to solve Easterella's puzzle and search for clues to win the Easter draw. Special answer sheets and QR codes will be provided to visitors to help guide them towards winning the Giant Easter Egg prize. Tickets include entry to the ground's magnificent butterfly house and walled gardens to continue the family fun. Tickets are required and operate on a first come first serve basis between 9 – 24 April.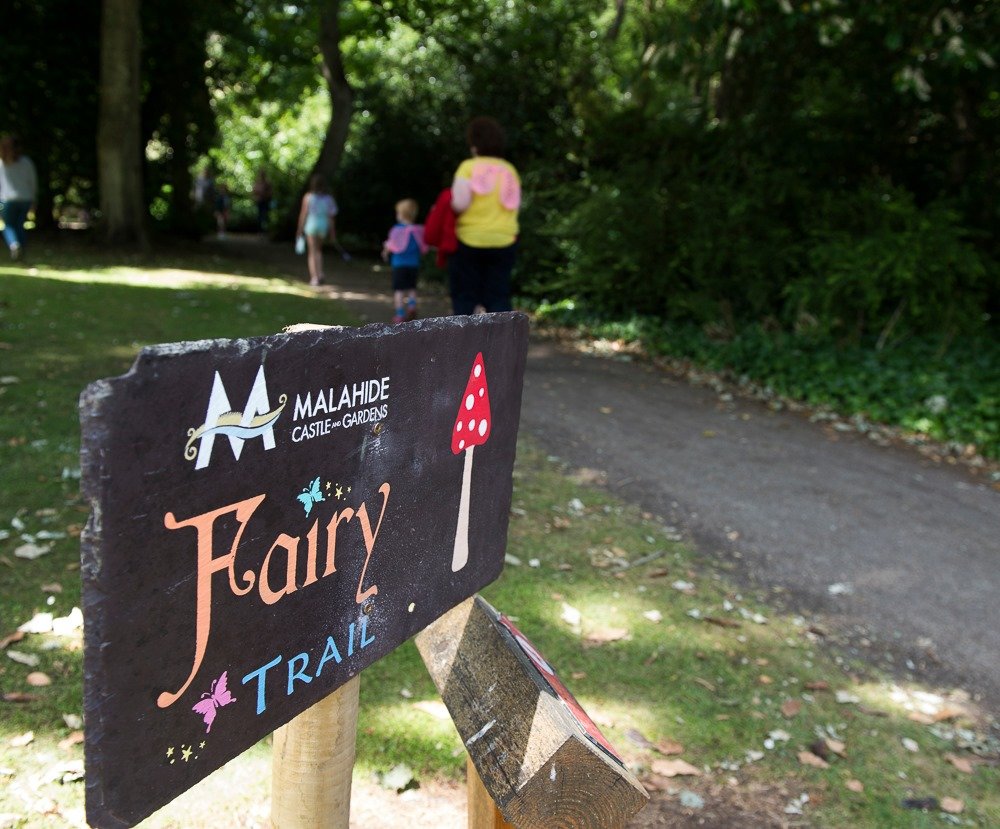 Airfeild Estate
One of Dublin's finest estates invites families to enjoy the fresh air over Easter with a variety of fun filled activities. The junior Natural Treasure Hunt takes the little ones on an adventure to learn about nesting birds and eggs with an exclusive workshop and trail. This hands-on experience discovers habitats and woodlands and is running on selected dates. There will also be a sustainable crafting session on 21 April requiring bookings. Other fun happenings include the free collectable activity trail sheet highlighting birdlife, a visit from the Easter Bunny along with sweet treats on Easter Sunday.
EPIC Museum
With the unpredictable Irish weather, it is always good to have an indoor option for Easter break ventures. EPIC has some entertainment hidden within the museum for those who are up for the challenge with an Easter Trail within the galleries for kids to part take in and enjoy! Follow the clues and colourful eggs along the way and get rewarded with your prize at the gift shop. Note that trail is included in standard museum tickets, so everyone is welcome to partake if they wish!
Theme Easter in Dublin / Hidden & peaceful greenspaces
Who knew there were so many hidden gems in Dublin city? Take time to escape the hectic streets and relax in some of Dublin's most underrated parks and greenspaces during the Easter Break.
Iveagh Gardens
This quiet oasis is known as the city's not-so-hidden but hidden park as most people forget the magnificent space and tend to be drawn to other well-known greenspaces like the Phoenix Park and St Stephens Green. You'll discover a beautiful waterfall, many fine statues and walking trails which will lead you all around the gardens. The park is lined with stoned walks and benches welcoming visitors to 'spend more time here'. On bright days small groups tend to bring blankets and sit out with family and friends to enjoy the soothing atmosphere. Being located just off Grafton Street has great perks as there is a wide variety of cafes to grab yourself a treat to enjoy here!
Blessington Street Basin
A space like no other! Due to its special features and layout the park stands out among the rest of Dublin's recreational spots. Blessington street Basin is 80% water home to many different birds and ducks that are worth visiting. The inviting space has benches, a playground, and a mixed gaming area to enjoy. Filled with a range of beautiful trees and plants the park showcases a fine natural element within Dublin city centre so go pay it a visit and catch some fresh air! (Being an underrated park, it tends to be quiet and calm being the ideal place to add to your to do list over Easter).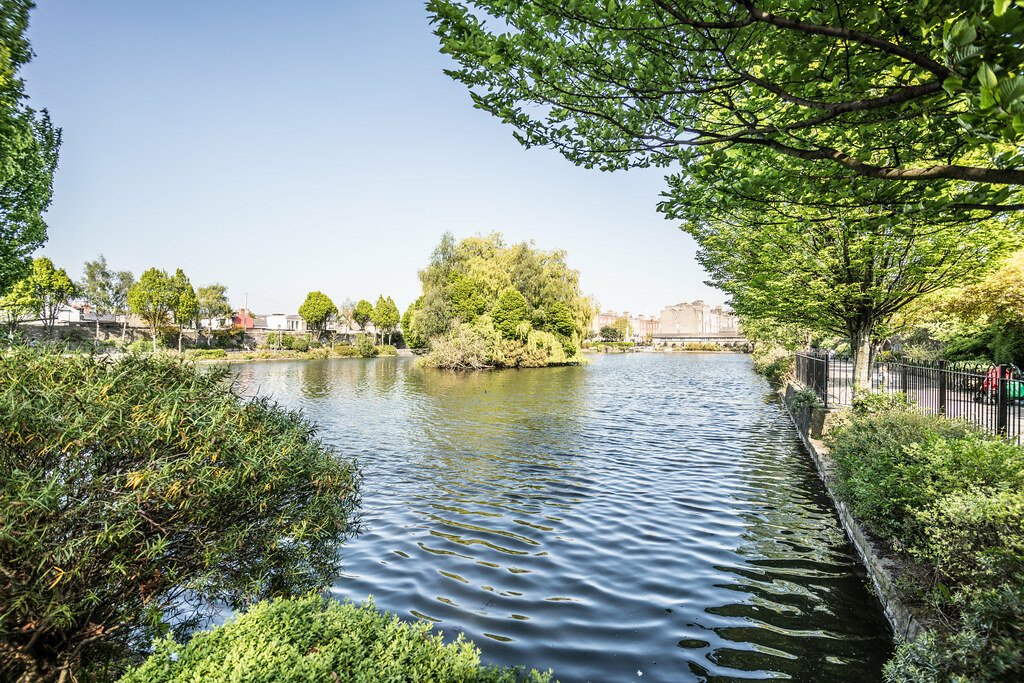 Merrion Square Park
Situated among the city's most spectacular Georgian squares the park honours the rich and famous residents who previously lived in the surrounding grand houses. Vibrant flowers and detailed statues are scattered throughout bringing character to the square. Figures such as Oscar Wilde, Michael Collins, and many more notable Dublin characters were known to have spent time relaxing or working here. Not only does the park facilitate a historic trail but also possess a playground and different markets to enjoy on weekends. Merrion Square is of walking distance of the National Gallery of Ireland, and the National History Museum which are both also worth the visit while in the area.
St Patrick's Park
Just north of the iconic St Patrick's Cathedral is St Patrick's Park, this picture-perfect lawn is great for photos, catching up with family and friends and taking strolls. The planted area is centred with a striking fountain that many people settle beside. Small in size the park never seems overly busy or hectic and is an inviting space. Not many greenspaces have such beautiful views of a famous cathedral like this.