EPIC The Irish Emigration Museum & Tour Combo
What can I expect
EPIC Combo is Currently Suspended but please visit our EPIC page to book tickets for this attraction or our City Sightseeing page to book hop on hop off tickets.
EPIC The Irish Emigration Museum is one of Dublin's most exciting attractions which tells the amazing story of Irish emigrants, the incredible influence which they have had throughout the world, the journeys undertaken, and the impact which 10 million Irish men and women who left Ireland had on the world.
Admission to EPIC
48 Hour Hop on Hop off Bus Tour
Voted Europe's Leading Tourist Attraction at the World Travel Awards three years in a row, 2019, 2020, and 2021!
Exclusive Online Discount – Save €5
Free Walking Tour with Pat Liddy
Free Little Museum of Dublin Entry
EPIC - Winner of Europe's Leading Tourist Attraction 2019 & DoDublin 48 Hour City Tour
You won't find leprechauns or pots of gold here, but you'll discover that what it means to be Irish expands far beyond the borders of Ireland through the stories of Irish emigrants who became scientists, politicians, poets, artists and even outlaws all over the world. Get hands on with Irish culture and its past with our fully interactive museum and find out why saying "I'm Irish" is one of the biggest conversation starters, no matter where you are.
Where is EPIC Located?
EPIC (and the Irish Family History Centre) is located in the heart of Dublin's thriving Docklands area. Housed in a stunning 19th century vaulted warehouse, DoDublin's hop on hop off tour stops right outside the museum every 10-15 minutes.
Stop 5 on the DoDublin Hop on Hop off tour

Save €5 with Combo ticket

Open Daily all year round (except 24 – 26 December)

Discover 1500 years of stories,

20 interactive galleries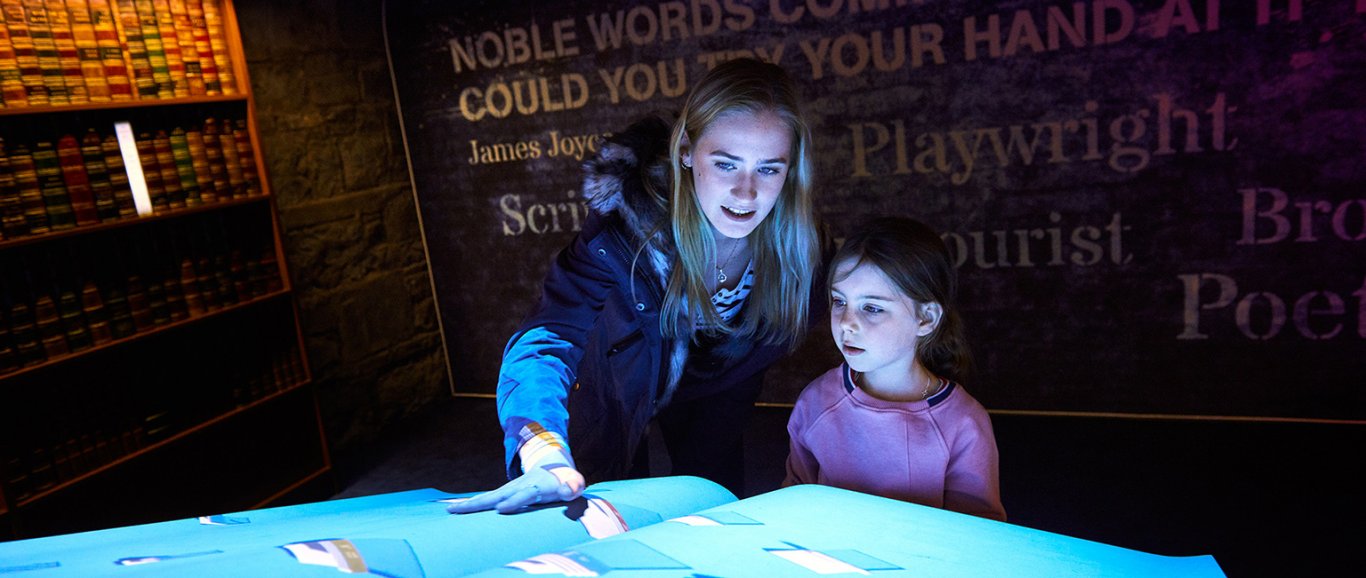 Europe's Leading Attraction
Opened in 2016, EPIC has already garnered numerous award nominations and wins, including a TripAdvisor Travellers' Choice Award 2017 and 2018, and been recommended as one of Dublin's must-see attractions by National Geographic, Lonely Planet and many more. EPIC has been voted Europe's Leading Attraction, beating off competition from Eiffel Tower, The Colosseum, and The Sagrada Familia.
EPIC The Irish Emigration Museum Reviews
Amazing interactive experience
"Fantastic way to spend a few hours and so much packed into it. Could easily spend half a day engaging with all the various rooms."
Amazing Museum
"Very modern museum, with such a good content in a format of taking us along a journey to understand irish culture and history and all the waves of migration and immigration and the reasons behind those. I would totally recommend a visit.
All measures to protect visitors were implemented (offered a pen instead of using on hands on touch screens, hand sanitizers everywhere, staff gave us recommendations of how to get best experience in a safe way)."
EPIC Combo vouchers must be redeemed at our Airport or City Centre Desk and cannot be redeemed directly from the bus driver.
Hop on Hop off Tour departs from Dublin Bus Head Office, 59 Upper O'Connell Street, Dublin 1. Every 10-15 minutes from 9am. You can join the tour at any stop.
Note: EPIC admission does not need to be used on the same day as tour ticket, but must be used within a period of 15 days after tour.