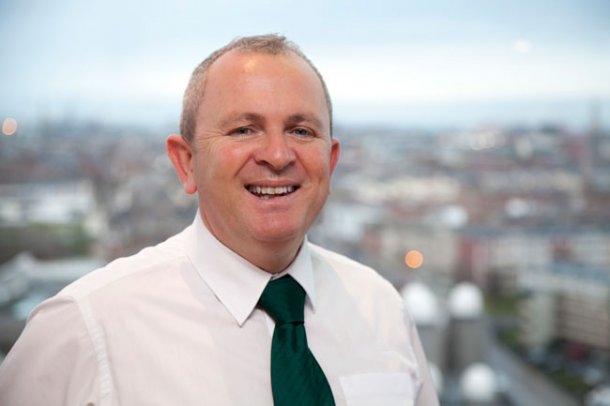 What's your favourite story to tell about Dublin?
Have you ever lost track of time? Well, have you heard of DMT/Dublin Mean Time?
Dublin was 25 mins & 21 seconds ahead of GMT (Greenwich Mean Time) until 1916.
What hidden gems do you advise tourists to visit;
My favourite hidden gems include Meeting House Square in Temple Bar, the Mummy of St. Michan's Church and the 'mystery' of the lucky stone in St. Audeon's Church.
What's the strangest/funniest question you've been asked by a tourist?
Does Dublin close for the winter season?
Has there been a marriage proposal on one of your tours? If so, where?
Not yet, but I will keep trying.
What tripadvisor are saying about Johnny Mac:
"Fab Driver Johnny Mac"
We visited Dublin last week for a hen weekend. Due to a late flight home on the Sunday, even though we had only had 3 hours sleep and were somewhat hungover, we decided to buy a one day pass for the Dublin bus. We had a 'grand' time listening to the interesting facts delivered by the drivers and the best one had to be 'Johnny Mac'. How these guys keep up their enthusiasm when they must be saying the same thing over and over again is beyond me? but they did and what could have been a long drawn out day waiting around for a flight, turned into a great day, and the hangover was blown away from the open top deck!!
"Johny Mac and co make it more than a tour"
Purchased the three day ticket to the hop on hop off tour and it was certainly money well spent. As well as a superb way to get to know the city quickly the drivers humour, particularly the excellent Johny Mac with his my wife jokes, gave us a real chuckle as we made our way around.
"City tour with a difference!"
We did the Dublin "Hop on Hop off" tour on the Green bus. The difference was the our driver/guide, Johnny Mac who kept us regaled with jokes and even a sing a long which we all participated in. Good fun. Plenty of stops with clear announcements made the ride tension free. Definitely, one of the better city tours.
"Great experience"
Johnny was our driver, guide and comedian. We didn't want to leave him but he had to go for his lunch. Great knowledge and such an interesting guide. Dublin should be proud of him!
"Johnny Mac is some craic!"
I took this tour on Monday the 10th of April , with the amazing Johnny Mac. Highly recommend this trip even if you live in Dublin. Its such an experience and you are kept well entertained along the way as Johnny told us all the history, jokes and stories. The tour took about 2 hours but we could get off at any point, but who would want to get off early with such entertainment on board.
"Hop on Hop Off bus"
Johnny Mac gave us a chuckle as we got an informative, humourous oversight of the fair city. Sunday traffic made the trip smooth and the sunshine kept us warm and happy. Worth the experience.
"Johnny Mac-What a Legend!"
Today we spent a couple of hours on the DoDublin Hop On Hop Off Bus. Johnny MAC our driver welcomed us on board even though we were running late! He was great fun, informative and entertaining with his singing songs. He even called us Royalty. Would highly recommend Driver Johnny. So thank you it was a pleasure, From the Royal Princesses of Kent.