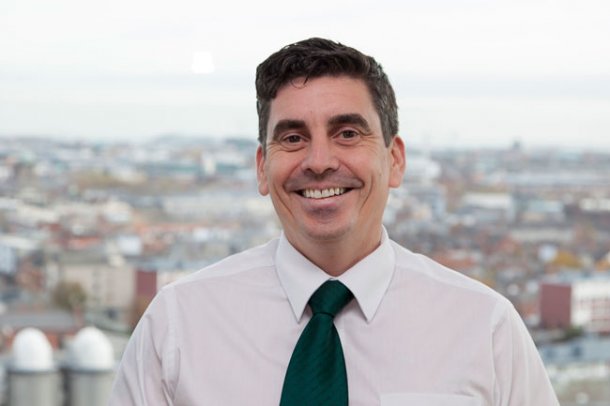 What's your favourite story to tell about Dublin?
I like the one about Adam Loftus. He was Archbishop of Armagh and
later Dublin, and Lord Chancellor of Ireland from 1581. He was the first
Provost of Trinity College Dublin in 1592. He had over 21 children, one
of the descendants of his 21 kids left Ireland in the 18th century and was
one of Walt Disney's Grandparents.
What hidden gems do you advise tourists to visit?
The International Bar. Traditional Victorian bar with music and comedy
and also Trocadero, a really cosy restaurant with a great atmosphere.
What question do you get asked the most about Dublin?
Are there really leprechauns in Dublin?
What's the strangest/funniest question you've been asked by a tourist?
There is a joke about the only statue of the invisible man in the world in the
Phoenix Park. I was once asked by a tourist, "how long must one stand there
for the man to become visible?" The statue was of George Howard, 7th Earl
of Carlisle. His statue was blown off on a particularly windy day in the 1950's
and all that remains is the plinth with the invisible man standing on it.
What TripAdvisor is saying about Maurice:
"Great!"
We booked a two day pass at the airport - 5 Euro cheaper! It has live commentary, and we had Cillian, John and Maurice at various times, who were all brilliant!! They sing, tell jokes, apart from knowing Dublin inside out. Dublin streets are being dug up everywhere for the new tram system, so some of the bits are very bumpy!! But would highly recommend these buses for getting about Dublin
"Maurice was Great!"
We went on the hop on, hop off tour just to get a bit of an insight on Dublin. We were lucky enough to have Maurice as our driver. He had us laughing within a few minutes, much better than a driver who sticks to the script. Found out everything we needed to know about Dublin's past and recommendations on what to do whilst we were there. My favourite part was probably the fact that Maurice didn't hide his hatred for taxis
"Fun-filled and Informative"
Did the hop on hop off tour in Dublin City. Wonderful experience full on great information. Our guide was Mark funny and interesting showed us all the sights within the city. We took bus back to town having done the Guinness experience and Maurice was hilarious. Again full of interesting facts regarding the history of Dublin. Well worth the money although 1 day pass may have been enough
"Dublin Hop-On Hop-Off Bus Tour with Maurice"
Maurice was a hoot! This was by far one of the best tours and tour guide we have ever experienced! He was very knowledgeable and FUN!!!!!! Well worth the price to "hop on/hop off to see the city of Dublin!
"Ask for Maurice as your bus driver"
Really enjoyed this bus tour around the city with Maurice!! Funniest but also most informative tour ever experienced!