National Gallery of Ireland - Plan Your Visit
What can I expect
The National Gallery collection includes well-known artists from Caravaggio and Titian to Monet and Picasso.
The Gallery features over 16,300 artworks, including paintings, sculpture, prints, drawings, photography, archival and bibliographical material.
Enjoy stunning Irish and international exhibitions.
Relax in the Gallery Cafe - a favourite for Dubliners!
See famous Irish paintings such as The Liffey Swim by Jack B Yeats.
A Dublin Treasure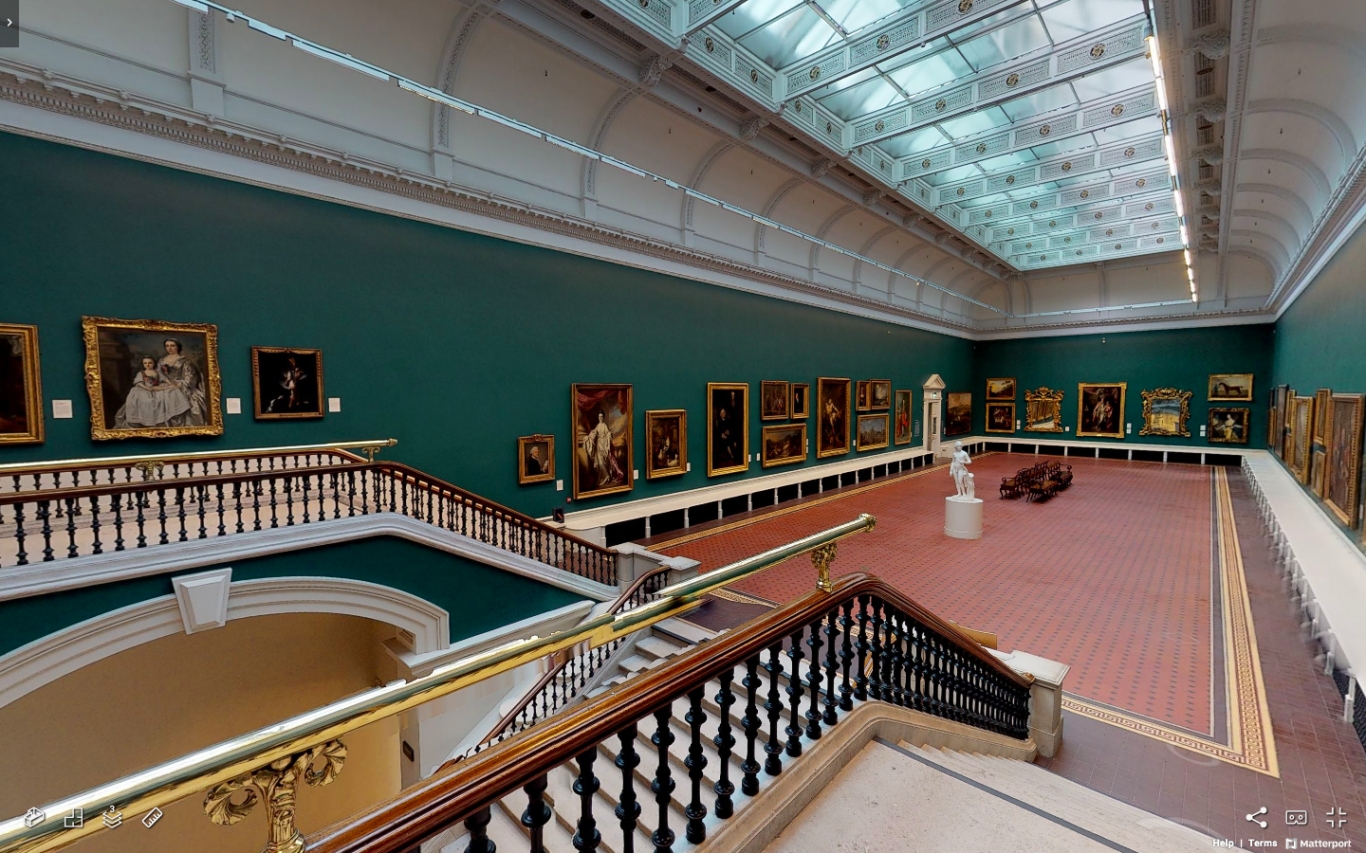 The National Gallery of Ireland, located at Merrion Square is a favourite attraction for Dubliners. The Gallery has free entry, and the collection contains over 16,000 artworks, representing every major European School of painting through watercolours, drawings, prints and sculpture.
With works by Rembrandt, Vermeer, Caravaggio and Monet, the National Gallery of Ireland also houses a renowned collection of Irish paintings dating from the 17th century to the 20th centuries, including works by Jack B. Yeats. There are paintings of beloved Irish personalities like poet Seamus Heaney, author Maeve Binchy, former president Mary Robinson, and Olympic medalist Ronnie Delaney.
Yeats Archive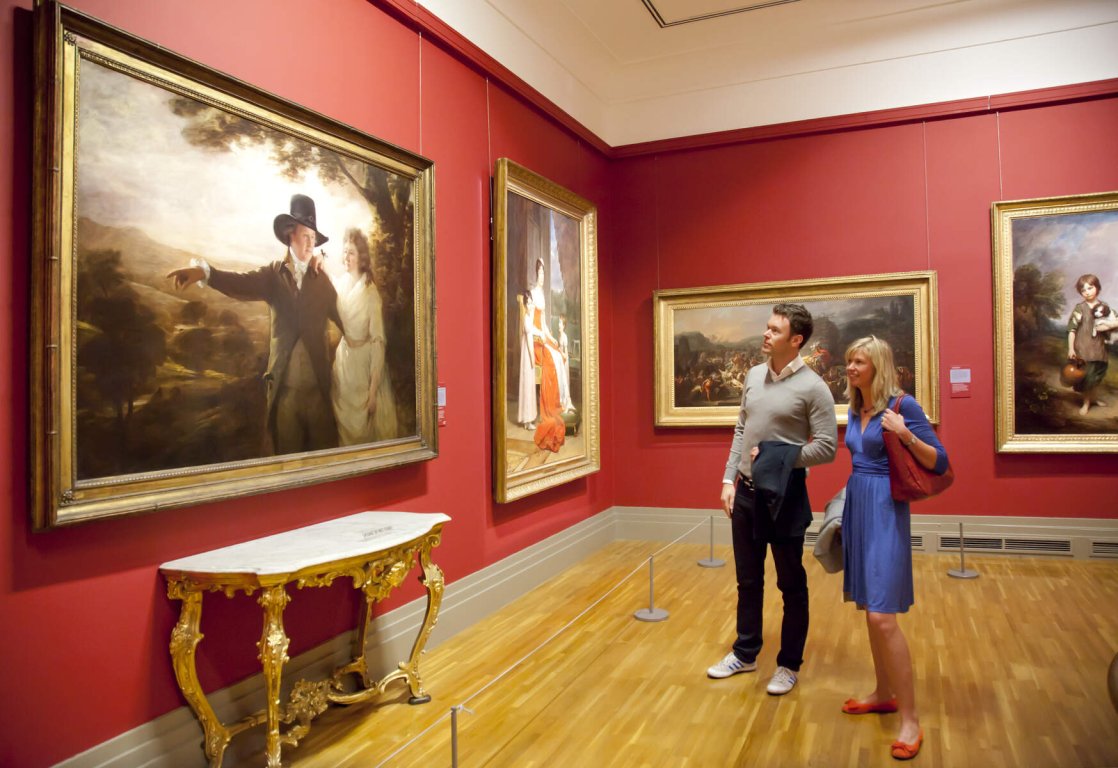 The Yeats archive includes a collection of material donated to the Gallery by Anne Yeats, as well as additional collections acquired since. These collections relate to Jack B. Yeats and members of his family and include highlights such as the artist's sketchbooks which cover over fifty years of his career, books from Yeats's own library, a collection of journals, theatre programmes, original manuscripts, photographs, postcards and letters, as well as his own easel.
Painting and Sculpture
The National Gallery is home to an impressive range of painting and sculptures by artists from the major European schools of art whilst also featuring the world's most comprehensive collection of Irish art. Among the numerous much-loved Irish works are The Marriage of Strongbow and Aoife by Maclise and The Meeting on the Turret Stairs by Burton. Other celebrated Irish artists include Hone, Barry, Hamilton, Osborne, O'Conor, Orpen, Leech and Henry.
European highlights include Spanish works by Velázquez, Murillo and Goya; Italian masterpieces by Titian, Caravaggio and Guercino; French paintings by Poussin, Chardin and Bonnard; works by eminent British artists including Hogarth, Gainsborough and Reynolds; and Dutch masterpieces by Rembrandt, Vermeer and Van Gogh.
National Portrait Collection
The National Portrait Collection dates back to 1875. Over the years the collection has been developed with paintings, drawings, watercolours and sculpture of prominent Irish individuals who have contributed to the civic, social, and cultural life of the nation. There is also a series of commissioned portraits of prominent figures from contemporary Irish life. The annual Portrait Prize, launched in 2014, has further contributed to the growth of this significant collection.
Exhibitions
The National Gallery has several ongoing exhibitions. There are also exhibitions which you can enjoy online!
Visit The National Gallery
For full details on current exhibitions, and to see the latest from the National Gallery of Ireland, visit their website.
The Cafe at The National Gallery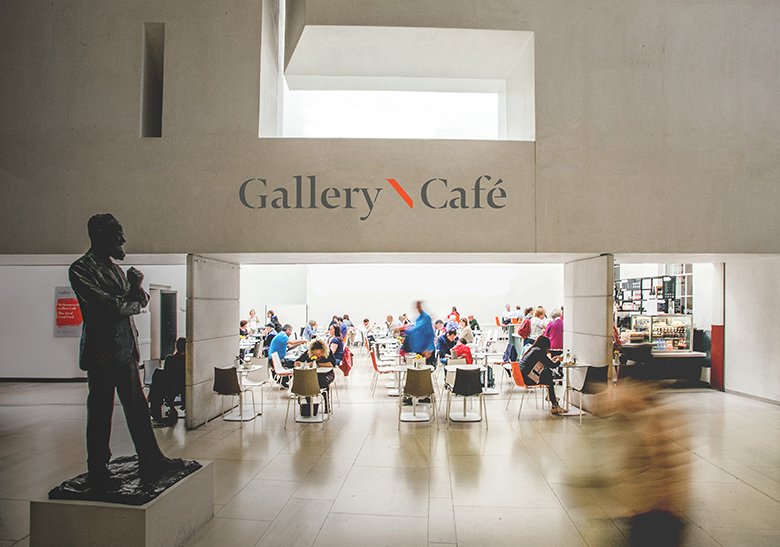 Brambles National Gallery Cafe is located at the main lobby and is a popular spot for visitors to the Gallery and many Dubliners. The cafe offers daily specials, sandwiches, and made to order salads.
Where is the National Gallery located?
The National Gallery is located at Marrion Square West, Dublin 2. There is a hop on hop off tour stop right outside the Gallery.
Dublin Bus: Bus: You can take many Dublin Bus Routes the National Gallery. For more information on Dublin Bus routes, visit dublinbus.ie
Other attractions close by include the Museum of Literature Ireland, and the Little Museum of Dublin.
Mon: 11am – 5.30pm, Tues to Sat: 9.45am – 5.30pm
Sun: 11.30am – 5.30pm
Located in the heart of Dublin City, the National Gallery is easily accessible by all modes of transport.
Find the National Gallery at Merrion Square West, Dublin 2