Take a trip to Dublin's dark side on board the original Ghostbus tour, and discover a side to the city you never knew existed. Dublin's dark secrets include many tales that shocked, repulsed or horrified Dubliners back in the day. The Ghostbus Tour brings these stories back to life in sinister detail.
What can I expect
Tours depart at 19:00 and 21:30
Dublin's Best Night Out!
Discover the Dark Side of Dublin's Past
Unravel the Mysteries of Haunted Sites around Dublin City
Ghostly happenings, comedy horror, and terrifying histories!
New - Ghostbus Kids Tour is back book now!
Also available from DoDublin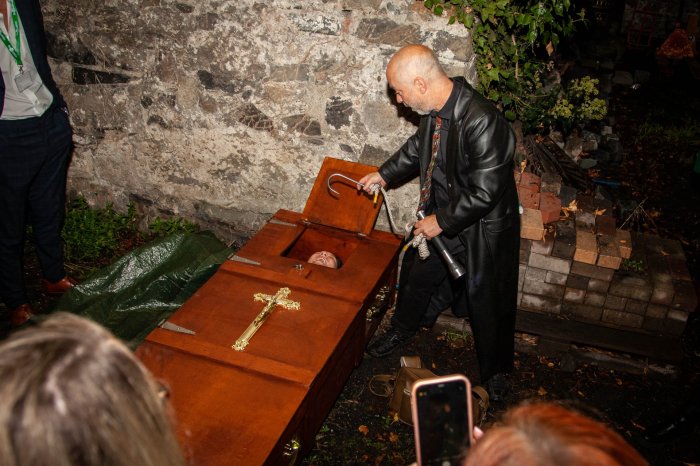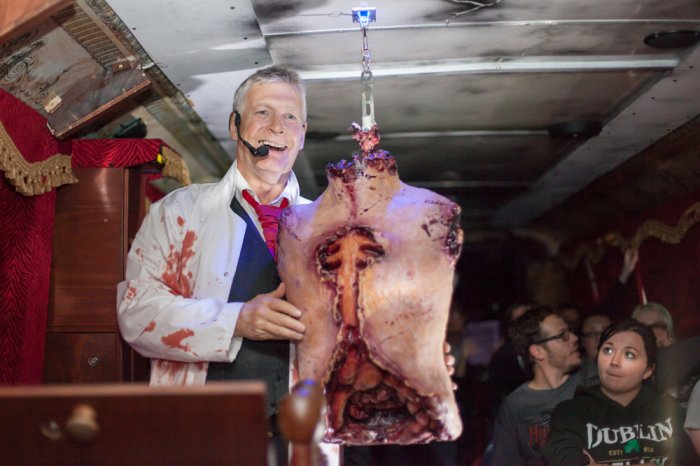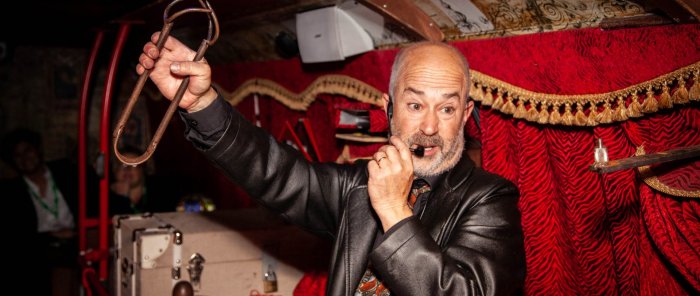 Tour Overview
Visit the scenes of these most despicable acts, be entertained by your storyteller and driver, (two souls who truly are in tune with the afterlife) Stop off at a creepy hidden city centre graveyard and visit the haunted steps of St Audeons Church where the ghosts of Darky Kelly and Lepers still roam the medieval quarter to this day. Visit includes a demonstration of medieval torture implements - a favourite with our fans!
The Ghostbus tour is a great 'alternative' night out in Dublin city. Ideal for anyone with an interested in darker side of life. The tour storytellers are experienced professional actors who know how to put on a great show. Visit our Plan your night out in Dublin page for essential information and links.
The bus itself is an incredible venue for all things macabre, travel through winding corridors and sinister rooms below before emerging into a stark Victorian theatre on the upper deck, complete with blood red velvet curtains.
Get a crash course in the art of body snatching, hear of sinister Dublin surgeon Dr Clossey, learn of the inspiration behind Bram Stokers most famous character Dracula, and much more.
The Dublin Ghostbus tour was the first of its kind in the world. The idea has now been copied in many cities but the Dublin Ghostbus tour remains the original and the best.
Buy Ghostbus Tour Tickets
Tour Departs
Start at Dublin Bus Headquarters at 59 Upper O'Connell Street, Dublin 1.
Please arrive 15 minutes before the tour departure.
Private Hire
The Ghostbus is perfect for office nights out and Christmas/Hen parties. If you'd like to book a private hire please contact privatehiretransfer@dodublin.ie
Tour Duration
Approximately 2 hours.
Please Note:
Amidst the spooky stories there is a sprinkling of bawdy/racy humour.

Suitable for 14yrs and over. Under 16yrs must be accompanied by adult.

This tour is not wheelchair accessible.

Tours are provided in English only.
The Ghostbus Tour may not be suitable for people with a nervous disposition.
The tour operates in a wide variety of weather conditions. Please dress appropriately