The museum itself is located in Charlemont House which is a mansion that was built in 1763 and was designed by a man called William Chambers. It features a vast collection of artwork and they range from modern and comtemporary from both Irish and international artists.
What can I expect
The Dublin City Gallery is free to all visitors
Open 9:45am-6pm Tuesday, Wednesday and Thursday
Open 9:45am-5pm Friday
Open 10am-5pm Saturday
Open 11am-5pm Sunday
Specialises in modern and contemporary collections
The best way to see all free attractions all around the city is with the Hop-on Hop-off Bus Tour.
Hugh Lane Gallery
The Hugh Lane is located on Parnell Square North which is only 10 minute walk from the Spire.
Collections
There is a permanent collection of artwork in Hugh Lane Gallery and it does include exhibtions too. Born in Dublin, Sean Scully is best known for his paintings that can be recognized internationally as he is a world-renowned abstract paintings. There is a whole room that is dedicated to him and the artwork that he has created. In 2001, the studio of Irish-born British painter who focused on imagery that both raw and unsettling, had his studio reconstructed after it was dismantled in 1998 and was moved to the gallery.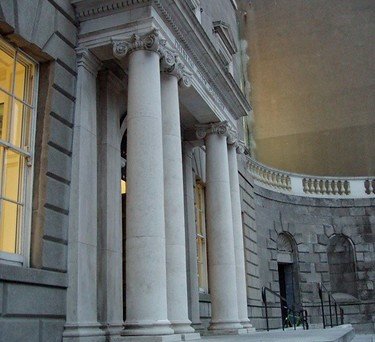 There is an array of French collections, including The Umbrellas, Portriat of Eva Gonzalés, View of Louveciennes and many more. There was a painting called In The Omnibus by French artist Honore Daumier and it was stolen from the musuem in 1992.
This is an amazing free attraction that is well worth the visit if you are an art-lover and looking for something to do for free or need something to do on a rainy day.
Other free attractions and their locations
The Hop-on Hop-off Tour will drop you on Merrion Street Upper which is right beside the Archaeological Museum of Ireland
Also at Merrion Street Upper is Leinster House.
On Nassau Street is the National Library and Trinity College where the Book of Kells is located.
St. Stephen's Green and across the road is the Little Museum (free with a Hop-on Hop-off Ticket)
At Cork Hill is Dublin Castle home to Chester Beatty Library
At the Royal Hospital there is IMMA which is the Museum of Modern Art
On Sarsfield Quay is the Decorative Arts and Hisotry Museum at Collins Barracks.