Please note; The last Hop-on Hop-off tour will depart from Stop 1 at 17:00 from Sunday 2 October


Guinness Storehouse
ONLY €18
What can I expect
Tickets for the Guinness Storehouse are currently unavailable.
Fastrack Entry to Ireland's most popular attraction
Explore seven floors at the iconic home of Guinness
Panoramic views of Dublin at the Gravity Bar
Enjoy a complimentary pint of the black stuff
*Note; Maximum 4 People can be booked for each time slot
Please Note:
*Maximum of 4 people can book per time slot.
Visit The Guinness Storehouse
Join us at the Guinness Storehouse to experience the history, heart, and soul of Ireland's most iconic beer. As you explore the space, find out what makes the brewing process so special, hear about the history of the brewery, and check out the archive of award-winning Guinness advertisements on display. Your final stop is the Gravity Bar, where you can admire panoramic views of the city as you enjoy a complimentary well-earned pint of "the black stuff."
St. James's Gate - Where it all Began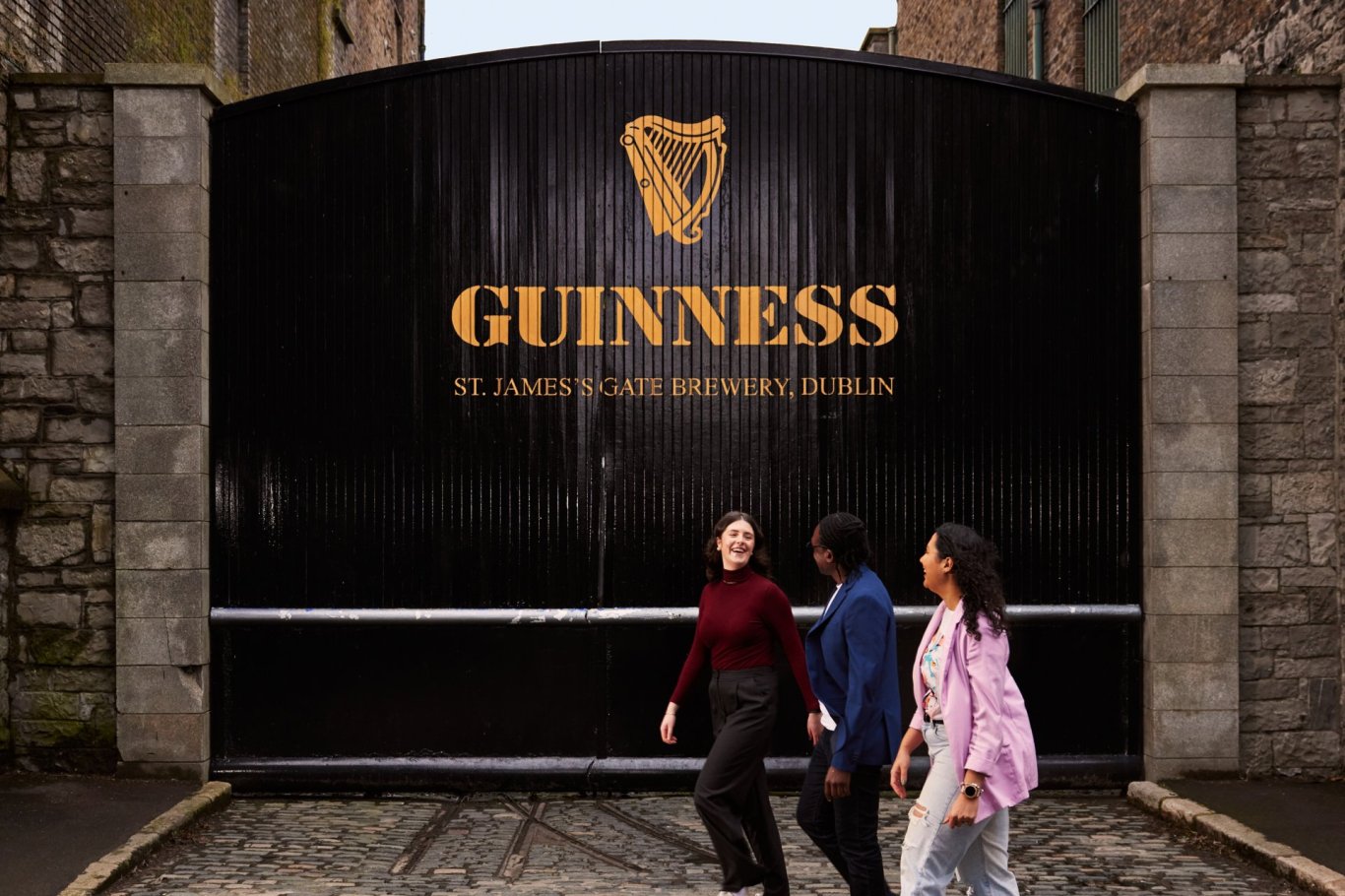 Your adventure begins the moment you walk through the door and into the building's giant, pint-shaped heart of glass. Located in the heart of the legendary St. James's Gate Brewery in Dublin, this production site has been home to the Guinness Brewery since 1759, when Arthur Guinness signed a 9,000 year lease. As you make your way through the Guinness Storehouse self-guided, you will discover what ingredients go into making the Black Stuff – and the process involved in making the perfect pint.
You will learn about the different award-winning and iconic advertising campaigns and slogans which have become synomynous with Guinness.
Gravity Bar at Guinness Storehouse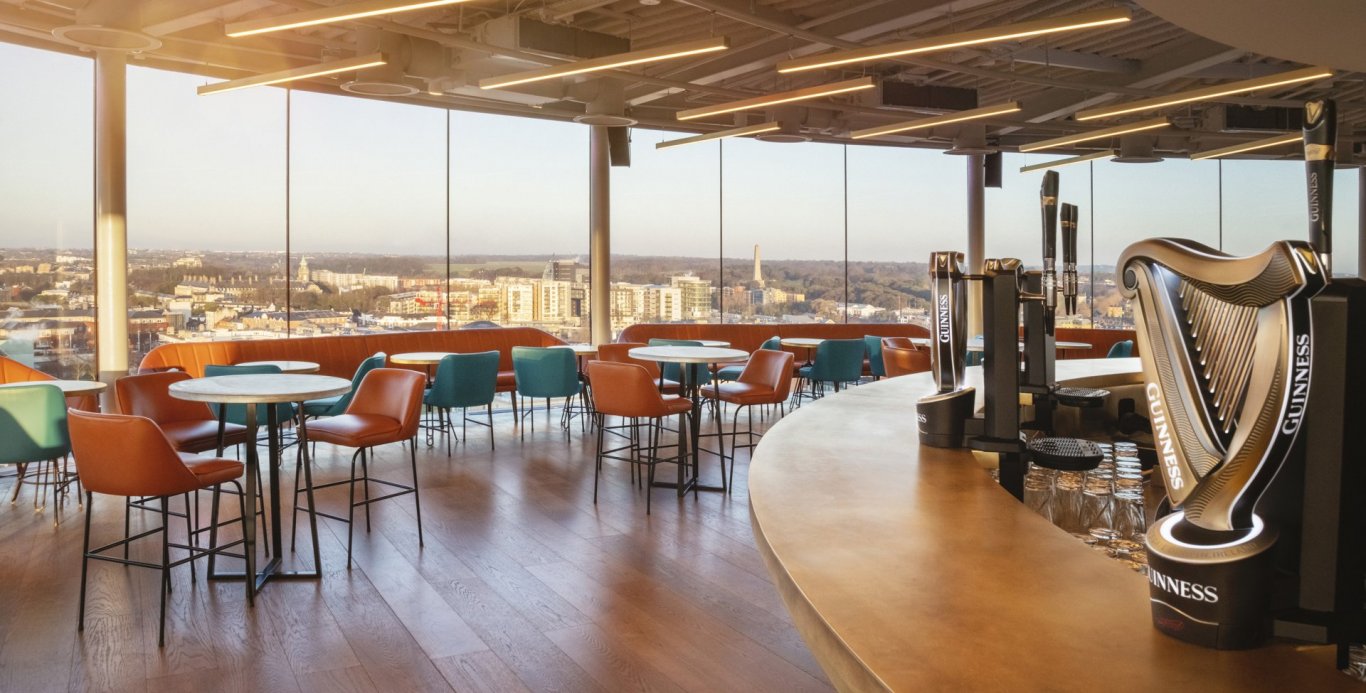 Having travelled through more than 250 years of history, end your tour at the Gravity Bar - the highlight of the tour for many! Here, you will receive a complimentary pint of Guinness. Relax and enjoy the sectacular panoramic views of Dublin.
Safety Guaranteed at the Guinness Storehouse
Covid19 Safety Measures and advice from Guinness Storehouse;
Limited capacity to ensure comfortable physical distancing and an enjoyable and safe experience for everyone
Stringent protocols around hygiene, with hand sanitisation points also available throughout the experience
As well as staff on hand to assist, the Storehouse has additional signage to guide your visit
Please only bring hand luggage as Guinness Storehouse won't be able to store bags or coats. Large packages, suitcases, carry-on luggage and other large parcels are not permitted in the building.
Follow the instruction and guidance of the staff who will be happy to answer any of your questions
Adhere to the physical distancing guidelines during your visit – this will be detailed in signage and staff will be on hand if you need guidance
Keep your hands clean and if you need to cough or sneeze please cover your mouth
Please follow our directions in relation to the use of lifts
Please use contactless payment wherever possible - though cash will be accepted
If you, or anyone you've been in contact with, has experienced Covid-19 symptoms in the last 14 days, please reschedule your visit for a later time
Please agree to Guinness Storehouse's purchasing terms & conditions. To ensure the safety of visitors and staff, Guinness Storehouse have limited group bookings to a maximum of six people per visit.
Please agree to only visit if on the day of your visit, you and your group are all in good health, symptom-free and have not had contact with anyone with a confirmed Covid-19 infection within the last two weeks. Please confirm if you have read and are complying with the latest COVID-19 (Coronavirus): guidelines from the Irish Government.
Where is the Guinness Storehouse?
The Guinness Storehouse is located just off St. James's St. in Dublin 8, a short walk from Heuston Station. It is located close to some other great attractions such as Pearse Lyons Distillery, Roe & Co Distillery, and Kilmainham Gaol.
Hop-On Hop-Off Tour
The Dublin Hop-On Hop-Off Tour has a stop right outside the Guinness Storehouse. City Sightseeing and Big Bus Dublin Tours also have a stop just outside the Storehouse.
Walk
From Trinity College Dublin, the Storehouse is 2.1km walking distance - this is a 27 minute walk approx. (On the way, we suggest stopping by the beautiful Christ Church Cathedral or Dublinia).
Dublin Bus
You can take Dublin Bus Route 13, 40, or 123 to St. James's St. - the bus stop here is less than 200 metres from the Storehouse. For more information on Dublin Bus routes, visit dublinbus.ie
Cycle
Cycling to Guiness Storehouse is straightforward, and you will pass by some iconic Dublin attractions on the way from the city. There is a Dublin Bike station located at Guinness Storehouse.
Luas
The closest Luas stop to the Guinness Storehouse is James's. This is 750 metres from the Storehouse.
Vouchers may be printed or can be shown on smart phones or mobile devices

Such a great tour!
Our guide was amazing. She was so knowledgeable and sweet! We loved touring the storehouse and doing the "stoutie" it was so much fun seeing everything.