Ned O'Shea's
Located a little further up the quays from Temple Bar (if you're in Temple Bar just head for the river, then turn left and walk for 3-4 minutes) Ned O'Shea's has that true authentic Dublin pub feel about it. DoDublin customers can even have a go at pulling their own pint of the black stuff, just show your hop on hop off ticket. They have live music regularly as well as set dancing among various other fun events. The food is absolutely fantastic, one of our top tips for Dublin pub food. (fish and chips and lamb stew are especially recommended). Great atmosphere and very reasonably priced too.
Complimentary Pour Your Pint Experience with every pint of Guinness purchased
The Arlington
The Arlington pub (in the hotel of the same name) is located in the heart of Dublin city, just beside O'Connell Bridge. Their Celtic nights with live traditional Irish Music and dance show is famous in Dublin and very much worth a visit. The food is good too, with a very tasty traditional Irish menu. The Irish stew and Ham hock are especially delicious as well as the chicken supreme. Large portions too if that is important to you. They don't get more conveniently placed then the Arlington, so pay it a visit when you're in town!
Oil Can Harry's
Oil Can Harry's display the old Irish saying Nil aon tinteán mar do thintéan féin, which translates to "there's no place like home" (not sure if Dorothy Gale ever stopped by) as they like to make their customers feel at home in this historic Dublin pub. Established over 100 years ago on Lower Mount Street (5 minutes' walk from Merrion Square) this pub survived through the 1913 lock-out and the Easter Rising and has become a firm favourite among Dubliners and visitors alike. It provides a great breakfast, lunch and dinner and they stock a great selection of traditional brews, craft beers Irish whiskeys as well as an impressive wine list.
Fitzgerald's
Possibly the easiest pub in Dublin to locate. Fitzgeralds is just a few metres from O'Connell Bridge, the main bridge in the city, just minute away from Temple Bar. It is one of those authentic Dublin pubs with an old time feel and comfortable seating throughout. They stock a wide selection of lagers, stouts and ales and the food is delicious, especially recommended is their full Irish breakfast which is available all day. Another good pub to watch the sports in, they have big screen tv's, and regularly have music sessions from seasoned Irish musicians. A great pub to sit down with a pint and watch the world go by!
Murray's
Murray's is easy to find being located at the top of Dublin's main street O'Connell Street. They have a great selection of beers and wine as well as an extensive array of Irish whiskeys. They regularly have live music and Irish dancing which is really entertaining. It's popular venue among Dubs for watching sporting occasions as they have many large tv screens. Extensive menu to choose from and very good quality food, their breakfast is fantastic and yummy desserts too! The staff at Murray's are always super friendly.
The Palace Bar
This is one of Dublin's hidden gems. Nestled discreetly away on Fleet Street, before the hustle and bustle of Temple Bar, The Palace Bar is one of Dublin's great historic, literary pubs. It is worth a visit just to see the sketch of the great characters like Flann O'Brien and Patrick Kavanagh who were both regulars in the Palace Bar. Visitors will need to get in early to get a seat but the homely atmosphere makes it well worthwhile.
Davy Byrne's
Davy Byrne's is one of the most historic pubs in the entire city. Situated on Duke Street, the pub has a long association with the Republican movement. The pub was a regular haunt of Michael Collins and Arthur Griffith during the tumultuous War of Independence. Indeed, the Provisional Government of the Irish Republic even held a cabinet meeting upstairs in the pub. Today you won't find any cabinet meetings in this gastropub but the delicious seafood and wide drinks selection mean Davy Byrne's is still well worth a visit.
O'Donoghue's
O'Donoghue's is part of the cultural fabric of the capital city. The world famous Dubliners have played many an impromptu 'session' over the years. It is also a favourite pub of music legend Bruce Springsteen who drops in whenever he's in Dublin. Located on Merrion Row, this pub has a unique character and is the perfect place to settle in for a quiet pint and a toasted sandwich.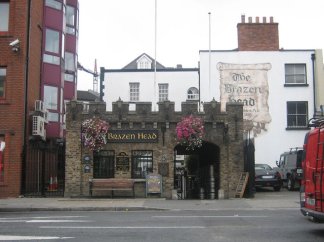 Brazen Head
If you are looking for an authentic Irish pub experience then there is no better pub than The Brazen Head. Dating back to 1198, this southside pub is officially the oldest pub in the country. They've had some interesting figures pass through the doors including Irish revolutionaries such as Robert Emmet, Wolfe Tone, Daniel O'Connell as well as literary giants like James Joyce and Brendan Behan.
The pub offers visitors live music and traditional Irish storytelling, so drop in for a bite to eat and learn more about the oldest pub in Ireland
There is so much to do and see in Dublin but it is impossible to imagine the capital city without its iconic pubs. ​Dublin city is famous for it's pubs, and they are without doubt the best in the world! Here is our list of the most famous and the best pubs to visit in Dublin
Buy your Hop on Hop off Tour Now!
Get 72 Hours unlimited use of the Airlink Express, as well as the Hop on Hop off tour and the entire Dublin Bus Network with our best value ticket the DoDublin Travel Card.
Discover Wicklows Hidden Gems on the Glendalough & Powerscourt Gardens Tour